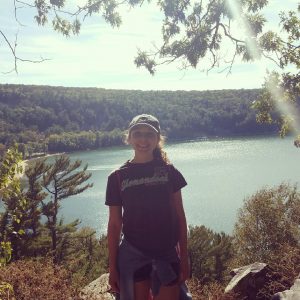 Meet Maddy Liberman, a sophomore studying Natural Resources and Environmental Sciences and a member of the Purchasing, Waste, and Recycling SWATeam.
Liberman is an active member and resident of the Sustainability Living Learning Community at Lincoln Avenue Residence Hall (LAR). As part of the advisory board, she created two projects: Zero Waste — LAR; and Sustainable Seats. Those projects work toward reducing student-made waste and diverting waste from landfills. Liberman is also a member of Epsilon Eta, a professional environmental fraternity at the U of I.
The PWR SWATeam's ultimate goal is to make the University of Illinois a zero-waste campus.
"I would really like to figure out constructive ways to tackle waste and purchasing challenges that campus faces in their efforts to be more sustainable," Liberman said. "I hope this involves expanding recycling, reducing waste, and making more sustainable purchases."
Liberman has even made this a personal goal, as she has been transitioning to zero waste herself for the past two years.
"This topic is very important to me because I can see the impacts humans have created to our planet from the waste we create," she said. "Changing the way we treat waste on an institutional level is an important step in ending this unsustainable waste issue."