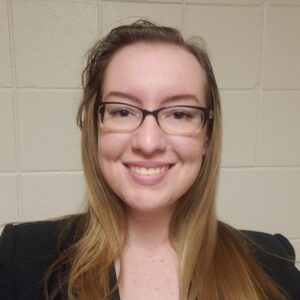 Jessica Nicholson is a senior completing a Bachelor's of Science in Mechanical Engineering with a minor in Business. She is a member of the university's Education SWATeam.
Nicholson has been involved in sustainability efforts for much of her life and believes that it's "critical that we all take steps to make sustainable change in our lives, our communities, and in industry." She helped co-author an Illinois Student Government resolution and proposed a sustainability general education requirement to apply to all undergraduate students. Her personal and career goals have always revolved around building a more sustainable world. 
She hopes to create solutions that ensure students have access to the proper resources they need to gain sustainability education. Nicholson's involvement with the team began in hopes to introduce her proposal and work to develop subsequent solutions to meet the needs of the Illinois Climate Action Plan (iCAP) educational objectives.
It's crucial to "equip students with a strong foundation of sustainability education" so they are capable of building a better future regardless of their position. Nicholson believes that the SWATeams are an important driving force to meet the iCAP goals, and she wishes to improve the opportunities that students have.
Sustainable principles are becoming increasingly relevant in our lives and careers. Nicholson understands that the iCAP goals must be met to "ensure the well-being of our present and future generations." Helping develop and implement these changes is what drives her involvement.
Nicholson is off-campus this semester as an Engineering Co-op at Cummins, and she wants to spend her long-term career working with sustainable energy technologies. In her free time, she loves to relax by spending time outside. She enjoys running and making music.
Return to the Education SWATeam Page >>>
— Article by iSEE Communications Intern Kratika Tandon