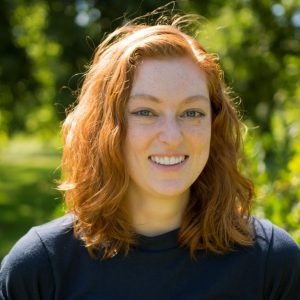 iSEE Communications Specialist Jenna Kurtzweil graduated from the University of Illinois at Urbana-Champaign in 2019, with her Bachelor's in English and a minor in German.
During her senior year, Kurtzweil worked at iSEE as a Writing Intern. She also worked for the U of I Foundation, completed the Certificate in Environmental Writing (CEW), and authored a children's book during her undergrad.
Now, as a full-time Communications Specialist, Kurtzweil works with the Communications team to reach campus about iSEE through written content, social media campaigns and the weekly newsletter.
"After a year with iSEE as a Writing Intern, I felt drawn to keep pursuing science writing and communication. I was excited for the opportunity to continue working for the University of Illinois and iSEE, and to sharpen that focus specifically into environmental communication," Kurtzweil said.
Because of her love for both writing and the environment, this job is a perfect fit — and she remains excited to continue learning about both.
"I'm looking forward to developing my abilities as a science communicator and picking up new skills whenever I can — and hopefully through osmosis becoming a better plant parent!" Kurtzweil said.
Not only does Kurtzweil believe the bigger picture of sustainability is important, she also recognizes how small acts make a difference.
"For me, the most important aspect of sustainability is finding a way to balance the big picture with the little picture," she said. "So, keeping up with the news and what's going on in the world is so important, but it's just as important to make choices every day that are impactful at that local scale. What I've discovered through working at Illinois is that there are so many people out there who are passionate about doing these things — we all just need to find each other."
When she isn't communicating environmental science, you can catch her doing anything outdoors. Specifically, at the Arboretum, Meadowbrook Park, or at the Farmer's Market!