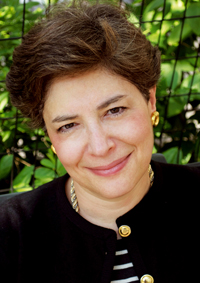 Green marketing guru Jacquelyn Ottman will inspire the University of Illinois community to adopt a no-waste mindset in her Earth Week keynote address on April 22. She will share some of her own story of incorporating environmental values into her career and help her audience find ways to do the same.
For a full Earth Week schedule, click here.
Ottman is hailed as a pioneer of green marketing. After a successful ad agency career, she founded J. Ottman Consulting in 1989 to help bring green into the business marketing mainstream. To date, she and her team have helped more than 60 Fortune 500 companies to develop a competitive advantage by designing and promoting products that are good for people and the planet.
Ottman was sensitive to waste issues early on in life.
"Growing up, I noticed that my Dad used to sharpen pencils right down to the nub. He would also cut up scraps of used paper into a uniform size and staple them together to create little note pads for himself. Now he didn't have to do those things, he just did them. I think it's in his genes," she said in an interview with Sustainable Brands in 2014.
It must be her genes, too, because at age 4 she brought home an armful of toys "rescued" from the neighbors' trash can — earning her the nickname Junkie Jacquie from her siblings.
"Tellingly, I wasn't embarrassed or shamed by their teasing. To the contrary, I felt proud that I had figured out a creative way to get some new toys … so I hypothesize that I have a 'salvage gene' that makes me look at trash and see treasure – and not worry what people think of me for dragging it home," she wrote in an email interview.
Ottman knew that environmentalism would be part of her career when she noticed some disturbing connections between packaging and overflowing landfills, CFCs in aerosols and the hole in the ozone layer, and phosphates in detergents and water pollution.
"A light bulb went off in my head: The planet is going to hell in a hand basket — and consumption is largely to blame! The consumer economy represents two-thirds of GDP," she said.
Although she had little formal environmental experience at the time, she began seeking a way to use her strong marketing skills to create demand for greener products that could slow pollution and waste.
"I saw that smaller 'greener' companies were having trouble getting their products off the bottom shelves of health food stores and into the mainstream supermarkets, where more consumers could have access to them," she said.
So before the term "green marketing" had even been coined, Ottman was devising messages to highlight the good those products could do for the environment.
Today, she enjoys finding creative solutions for reducing the resource use and waste related to a broad range of consumer products and services. Sometimes the size of the challenge of sustainability can be daunting, she says, but the little things do add up.
"Little things are important because they can embolden people to take the next step toward larger things," she says.
In addition to consulting work, Ottman shares what she's learned on the job with business people and students all over the world. She is a highly sought-after speaker at industry conferences and corporate gatherings and is the author of four books and countless articles and blog posts on the subject of trustworthy green marketing.
At the end of the day, Ottman considers herself lucky to have a job that allows her to express her personal values.
"Wouldn't it be great if everyone could get paid to do what they love, and to do something that really added to society? Helping to inspire people in this direction makes me feel really happy. That's why I'm really looking forward to coming to (the U of I) on Earth Day. I'm excited about the possibility to inspire college students to figure out a way to get paid to do what they would love to do and help the environment, too."
The keynote begins at 4 p.m. on Wednesday, April 22, in Room 149 of the National Soybean Research Laboratory (1101 W. Peabody, Urbana, IL 61801).
The Earth Week 2015 keynote address is made possible by support from ActGreen, Students for Environmental Concerns, the Student Organization Resource Fee (SORF), and the Institute for Sustainability, Energy, and Environment (iSEE).
Immediately following the keynote will be an awards ceremony for iSEE's Certified Green Office Program, Greeks Go Green, and Campus Conservation Nationals (Eco-Olympics).
More information about Earth Week, including the latest schedule, may be found here. Our Facebook event post is here.