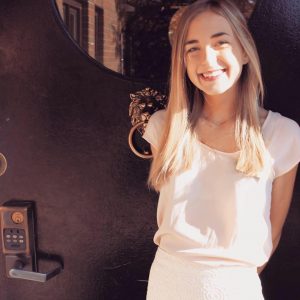 Meet Ella Liskiewicz, a junior studying Public Policy and Law in the College of Agricultural, Consumer, and Environmental Sciences (ACES) and a member of the Agriculture, Land Use, Food, and Sequestration SWATeam.
Liskiewicz is a member of Alpha Delta Pi Sorority and works at the eLearning Office for the Gies College of Business. In her free time, she likes to read, write, paint, and cook. Liskiewicz has been interested in sustainability since she was in high school, where she took an environmental science class that drew her attention to environmental issues.
Liskiewicz joined the student working groups for the Illinois Climate Action Plan during her freshman year. As a member, she met others affiliated with iSEE who encouraged her involvement in a SWATeam.
"I felt that these teams were a great opportunity for me to listen to great ideas that are being pitched to make our campus a more sustainable place," Liskiewicz said.
Agriculture is something that Liskiewicz is especially interested in because of its impact on the environment.
"In order to make the biggest improvements in sustainability, we can focus on improving  the agricultural industry, which conveniently, is represented very strongly here at U of I," she said.
Liskiewicz said that her favorite part about this university is the diversity.
"I think that being on such a diverse campus allows us to really create change and propose fresh ideas that can move the community, and even the country, toward a better, more sustainable future," she said.
Return to Zero Waste SWATeam page