Charlee Thompson is a senior in the Grainger College of Engineering studying Environmental Engineering.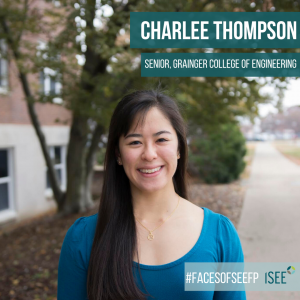 Thompson chose to minor in iSEE's Sustainability, Energy and Environment Fellows Program (SEE FP) because she wanted to lean more toward social — rather than purely scientific — career opportunities.
Her decision was driven by her desire to "gain a more interdisciplinary education and one that focuses more on anthropogenic environmental issues."
So far, her favorite class in the SEE FP has been the capstone, ENVS 492, because it's allowed her to apply the technical and nontechnical skills she's learned in her major to a real-world setting.
Thompson says she would recommend the SEE FP to other students because it's an excellent opportunity to "expand one's breadth and depth of knowledge within their own field to others — to better understand how they can use their passions to work toward a sustainable community and future."