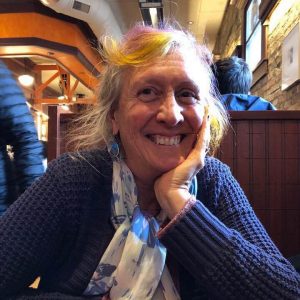 Meet Ann-Perry Witmer, an Instructor in the Grainger College of Engineering and member of the Education SWATeam.
During the Fall 2019 semester, Witmer is teaching ABE 489: Intro to Contextual Engineering, and ENG 177: Introduction to Sustainability. She also leads the Contextual Engineering Research Group in Agricultural and Biological Engineering.
Witmer came to the University of Illinois in 2014 as a freshman engineering teaching associate. Before that, she worked as a professional engineer, consulting in the drinking water sector. She also holds degrees in Journalism and Art History, and has over a decade of experience as a newspaper reporter and editor, as well as a freelance writer.
Since her arrival at the university, Witmer has been working with iSEE on sustainability issues, both as a Water Scholar and as an educational partner.
"Sustainability isn't a standalone issue," she said. "For it to be practiced effectively, it should permeate our lives and our careers. It's been my goal and continues to be my goal to show future generations of engineers that sustainability is relevant to them in whatever work they're doing, and this SWATeam will help implement and extend that understanding."
One of Witmer's biggest goals for the Education SWATeam is to help legitimize the science and theory of sustainability as an area of knowledge that not only is relevant but is absolutely vital to incorporate into whatever actions we take professionally and personally.
"There's a startling number of people who disregard sustainability as an issue because they lack the understanding to see it as an economic and social discipline as well as a scientific discipline that can affect their lives. Education is the key to making sustainability relevant, ultimately mitigating that disregard."