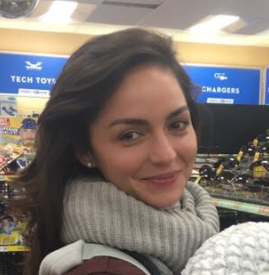 Andrea Martinez Gonzalez is a second-year graduate student studying Communication and a member of our Energy Conservation and Building Standards SWATeam.
Being a SWATeam member is a way for her to apply her communication, persuasion, and campaigning skills to projects she cares about — all while learning along the way.
Andrea believes partaking in sustainable actions is an "invaluable service to the campus, local, and global communities," she said.
As a newer member of the ECBS SWATeam, Andrea has already learned a lot. She's excited to work on measurable campaign-oriented changes that motivate students to model energy-saving behaviors.
Above all, Gonzalez welcomes challenge.
"This campus has an innovation-focused identity, but it is large, complex, and habits are hard to change," she said. Because of this, she anticipates behavior change at a big university to be difficult, but worth it.
In her free time, Andrea enjoys running, cycling, and boxing.