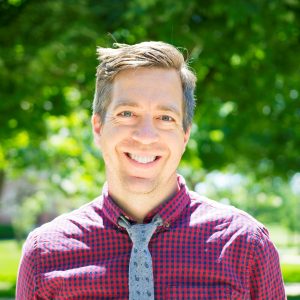 Adam Rahn is iSEE's Media Lab Coordinator. Adam is part-time at Illinois; full-time, he runs his video production company, Droi Media. Adam is an award-winning producer, director, editor, and videographer with almost 15 years of professional production experience.
After completing his bachelor's degree in Broadcast Journalism, he went on to pursue a Master's in Communication, both from Illinois State University. Adam has worked as a Multimedia Specialist for organizations including Illinois State University, Cygnus Business Media, and Immersive Media. He has taught journalism technology and video production classes at several Central Illinois colleges.
As the Media Lab Coordinator, Adam creates, shoots, and edits video content for iSEE and the Center for Advanced Bioenergy and Bioproducts Innovation (CABBI), a U.S. Department of Energy-funded Bioenergy Research Center.
Adam considers himself a bit of an environmentalist. He enjoys growing his own fruit, veggies, and herbs. He composts, loves his rain barrel, and is an avid cyclist. One way that Adam incorporates sustainability into his personal and professional life is through his DIY projects. He frequently reuses things commonly found around homes to create production equipment.
Adam is a "huge nerd." When not making videos or building his own gear, you can find him reading sci-fi books, binge-watching shows on Netflix, running, cycling, cooking, or playing with his cats, Elway and Earhart, and his dog, Emerson Collieflower.