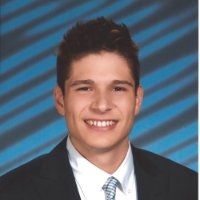 Lance M. Langer is a senior in Civil and Environmental Engineering within the College of Engineering. His primary field of study is Environmental Engineering, and his secondary is Hydraulic Engineering with a minor in Chemistry.
Lance is the president of the Water Environment Federation-American Water Works Association (WEF-AWWA) joint student chapter on campus. He also leads the mentor advising program for the Civil and Environmental Engineering Student Committee (CSC) and serves as a director for the Undergraduate Advisory Board between the College of Engineering and CEE to suggest improvements to the student experience.
In his free time, he enjoys playing the guitar and watching and/or playing football.
Lance knows that a sustainable campus means sustainable success. "If we can't keep our campus healthy then keeping ourselves healthy is going to be tough," he said.
He jumped on the opportunity to join the Water and Stormwater SWATeam because he knew it would be a great opportunity to make a difference and help the campus flourish. So far, he's learned that there are many things that the U of I can do to improve campus water use. Rather than be daunted by the challenge, he is excited that in solving campus problems, we may uncover strategies that may be applied on a national or international scale.
"Now that would be amazing," he said.
Lance believes that the greatest challenge is not achieving the goals but rather maintaining them. It's easy to achieve a goal for one year, but to hit goals continually and build on them is "the tricky part."