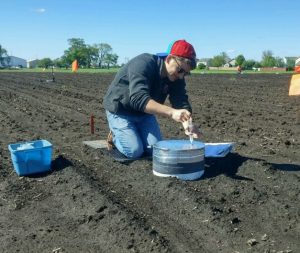 Joseph Edwards is an undergraduate majoring in Natural Resources and Environmental Sciences (NRES) at Illinois. In his studies, he conducts research on the ways fertilizers and overall soil conditions affect greenhouse gas production from agricultural fields.
He joined the Agriculture, Land Use, Food, and Sequestration SWATeam in Fall 2015 because he believes it's important for students to get involved in their school and to push where they can for more sustainability. The University of Illinois at Urbana-Champaign, he said, is particularly important to the sustainability movement.
"Our campus is a leader in innovation across the globe," Edwards said. "We are looked at as a place of knowledge and a model for not just other schools but any type of institution. If our university, with all of the resources it has at its disposal, cannot show that sustainability is feasible and necessary, then why would anyone else even try?"
Although he joined the SWATeam to give back to campus, he's gotten a lot in return from being a member.
"I have learned a lot about how to organize and be part of productive meetings," he said. "I picked up a lot of information on how our agricultural system works, as well as sustainability practices surrounding that. I plan to use all of that knowledge throughout my career."
He hopes that during his time with the team, campus can increase the carbon sequestration potential of its farm fields, produce more organic food to be eaten on campus, obtain thorough, robust, and reliable data on what the U of I farms' greenhouse gas emissions and runoff rates actually are.
"Our biggest strength is that we care, we are organized, and that we are actively working to reach this goal, not just sitting back and twiddling our thumbs, trying to figure out what to do," he said.
Edwards is a lover of the outdoors, a vegetarian, and a fan of every food-related show he can find on Netflix.
Return to Zero Waste SWATeam page