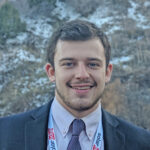 EDITOR'S NOTE: Jonah Messinger, a recent graduate of the University of Illinois Urbana-Champaign in Physics and Energy Systems, is now a Visiting Scientist and ThinkSwiss Scholar at ETH Zürich working on next-generation gammavoltaic technology. As a COP26 observer for iSEE, Jonah will follow and report on the major developments and climate negotiations.
He will also share his thoughts on panels and with media outlets. Among his scheduled engagements at COP 26:
Global Youth Engineering Climate Conference (GYECC21) — 4-5 p.m. Nov. 2 (livestream: https://www.nationalgrid.com/cop26live). Messinger was on a three-person panel hosted by National Grid discussing a range of topics from a previous youth COP-adjacent conference, including climate and economically developing nations, local vs. global/national decarbonization, and green skills/industrialization. 
Times Radio interview (livestream: https://www.thetimes.co.uk/radio).
Pitch Switch: Cross-Generation Climate Innovation — He will be on a judging panel for a climate innovation idea pitch challenge hosted by Project Everyone. Details to come.
Stay up to date by following Messinger on Twitter: https://twitter.com/JonahMessinger
---
His Reports
NOV. 11
As the COP26 negotiations wind down, the United States and People's Republic of China released an unexpected mutual statement on intentions to cooperate on climate action. Former Secretary of State and current Special Presidential Climate Envoy John Kerry and Xie Zhenhua, China's top climate diplomate and former Vice Chairman of the nation's premier economic development institution, jointly announced the agreement at COP26 on Nov. 10. This — after Chinese President Xi Jinping decided against attending COP26 in person — is a welcome but slightly ill-defined announcement.
In front of the United Nations in September 2020, Xi announced China's ambition of achieving net-zero by 2060, although it remains unclear if this target is for net-zero greenhouse gas or carbon dioxide emissions. According to Carbon Brief, China's announcement represents a strong step toward limiting warming to 1.5°C by 2100, but only if the nation takes more ambitious steps on decarbonization in the near term (five to 10 years).
While vague at points, the agreement representants a major step in climate diplomacy between the two nations, which, as of 2020, collectively emit 43% of global greenhouse gas emissions. The agreement stresses the importance of cooperation in a myriad of topics ranging from climate finance for developing nations, methane emissions tracking and reduction, ending illegal deforestation, renewable energy and energy efficiency deployment, and more.
This is a high-level document and seems to be a starting point rather a comprehensive, solution-oriented agreement. For example, it establishes a joint "Working Group on Enhancing Climate Action in the 2020s," which aims to identify and execute on "concrete" climate action steps this decade. The working group may also include other nations as appropriate. India is a potential partner country to keep an eye on in this regard. Further examples of resulting steps toward cooperation include recent reporting that Xi and U.S. President Joe Biden are planning a virtual meeting based on this joint agreement as early as the week after COP26 concludes. According to Xie, this agreement was the result of over 30 meetings during 2021.
The announcement is a good step toward a coordinated approach to decarbonizing the global economy. It will be interesting to see how U.S.-China relations unfold amid the rival contexts of climate action cooperation and China's alleged mass mistreatment of Uyghur Muslims in the country's western provinces.
NOV. 3
One of the most contentious topics in past COPs and coming into COP26 is the implications of differentiated responsibility for climate change on climate action expectations. Wealthy nations are responsible for nearly all historical and the vast majority of contemporary greenhouse gas (GHG) emissions. Yet, lower-income nations tend to face the brunt of climate impacts.
This is in large measure due to a reduced inability to adapt to climate change and predict acute climate change-induced natural disasters in economically developing nations. For example, according to the OECD, more than 96% of deaths from natural disasters take place in developing countries. Climate change acts as a threat multiplayer. Where natural disaster preparedness and response inequalities currently exist, climate change will further drive the divergence of impacts. In this context, economically developing nations often argue that wealthy countries should promptly mitigate emissions and decarbonize to reduce global warming. Before COP26, a slew of African political leaders — including President Muhammadu Buhari of Nigeria, President Yoweri Museveni of Uganda, President Lazarus Chakwera of Malawi, and Vice President Yemi Osinbajo of Nigeria — argued for the use of natural gas for economic development in Sub-Saharan African countries, the responsibility of wealthy nations to foot the bill for climate action, and more.
On Nov. 3, the Least Developed Countries (LDC) Group, analogous to the G20, held a news conference to discuss their expectations for COP26. LDC Chair Sonam Phuntsho Wangdi of Bhutan discussed numerous climate action issues, including climate finance, climate change losses and damages, and global warming targets. Wangdi stressed that there was no formal method to compensate LDC countries — a 46-country bloc of climate-vulnerable nations with negligible legacy GHG emissions — for losses and damages induced by climate change impacts for which they were not responsible.
On climate finance, the Wangdi discussed the need to follow through on the now overdue "baseline" $100 billion in annual public climate finance commitment to economically developing nations. The pledge, made in 2009 at COP 15, had a deadline of 2020; that was extended to 2025 at COP21 in Paris.
Wangdi highlighted that the definition of public climate finance is also not clearly specified and that some funds seems to be private capital, not public funding. This confusion results in a range of reported current public climate funding from ~$20 billion to ~$80 billion.
The Chairman answered my question about Prime Minister Mia Mottley of Barbados calling for an ambitious $500 billion in annual climate finance. He recognized that $100 billion is likely insufficient but stressed that more research is needed to determine the correct figure. Moreover, he pointed out that the level of funding is only half of the story.
Indeed, in some cases, it takes four or even five years to gain access to this capital. What is more, financing often takes the form of loans instead of grants. He said increasing funding is only effective if it is accessible. Finally, the Wangdi shared an optimistic view that limiting warming to 1.5° C was possible and that the LDC Group supported such an ambitious target.
NOV. 1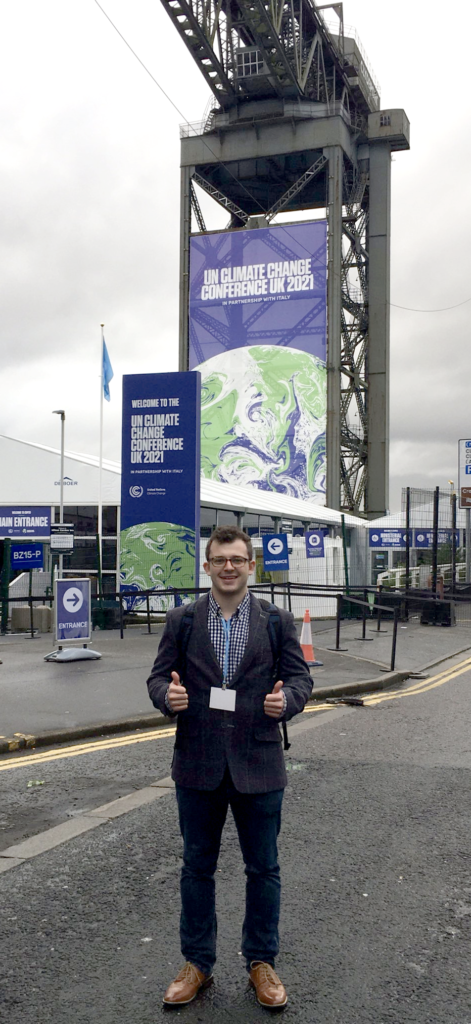 The UN Climate Change Conference kicked off today with the World Leaders Summit. COP26 President Alok Sharma, a member of British Parliament, welcomed world leaders. After introductory remarks, presidents and prime ministers took turns briefly presenting their national climate ambitions and expectations for COP26.
COP26 has four key goals:
Secure global net-zero by mid-century and keep 1.5 degrees within reach
Adapt to protect communities and natural habitats
Mobilize climate finance of $100 billion for developing nations
Follow through on the Paris Climate Agreement and accelerate climate action
Importantly, the aim of COP26 is not to develop a new agreement among nations. That was achieved in 2015 in Paris at COP21. Instead, COP26 is about execution of the Paris Agreement and elevating Nationally Determined Commitments (NDCs) on climate action to limit global warming to 1.5° C or well below 2° C, as per the Paris Climate Agreement. However, on Sunday, the day before the World Leader's Summit, the Group of Twenty (G20) came to a climate agreement in Rome that did not live up to expectations. The G20 meeting featured some strong climate actions, to be sure. The group, responsible for roughly 80% of emissions, pledged to take steps to limit warming to 1.5° C, agreed to end international coal finance, and the promise of $100 billion in climate financing for economically developing countries seems imminent, according to U.S. Treasury Secretary Janet Yellen. But the G20 agreement falls short on commitments to achieve net-zero greenhouse gas emissions by 2050 or phase out coal in G20 countries. There is a rich irony in ending overseas coal financing but not committing to ending coal power in-country. What is more, Russia and China seem uninterested in the process altogether. Indeed, Presidents Vladimir Putin and Xi Jinping attended the Rome meeting virtually and decided against traveling to Glasgow for COP26.
During the World Leaders Summit, Barbados Prime Minister Mia Mottley stole the show, calling for wealthy nations to increase public climate finance for economically developing nations to $500 billion. She spoke plainly about the risk climate change poses to island nations and urged wealthy countries to expedite decarbonization efforts, follow through on climate finance commitments, and bolster net-zero commitments.