For the third year running, the Institute for Sustainability, Energy, and Environment (iSEE) is announcing an exciting fellowship opportunity for faculty and instructors at the University of Illinois Urbana-Champaign.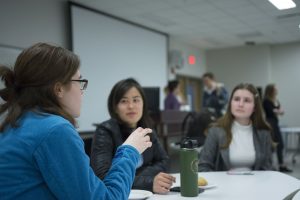 The 2021 Levenick Teaching Sustainability Fellowship provides funding for Illinois instructors to integrate sustainability components into an existing course ($1,000) or develop an entirely new course with a sustainability focus ($2,000). To maximize the number of students reached, iSEE especially encourages applications from instructors teaching courses at the 100 and 200 level.
In addition to the stipend, members of the 2021 Cohort will receive access to iSEE's multipronged program, including: sustainability teaching resources; a Teaching Sustainability Retreat in late Spring 2021; and access to a network of U of I instructors experienced in syllabus and curriculum development in the sustainability domain.
"The Levenick iSEE Teaching Sustainability Fellowship offers an opportunity to blend sustainability with virtually any subject matter to produce innovative, practical learning outcomes," said Gillen Wood, iSEE Associate Director for Education and Outreach. "We were extremely pleased with our first two years of the program, and are excited to welcome our new cohort of sustainability teaching fellows in the coming year."
The deadline for applications is Jan. 31, 2021; applicants will be notified of their status no later than March 1. This program was funded by a generous gift from Stuart J. and Nancy L. Levenick.
Visit the Levenick Teaching Sustainability Fellows webpage for a program overview and application information >>>