UPDATE (Dec. 16, 2014): Among eight Big Ten participants in the Gameday Recycling Challenge contest, Illinois finished third in recycling, fourth in diversion rate, and second in organics reduction. Congratulations to all the volunteers and Illini fans! Find more here. 
The Oct. 25 football game marked not only the University of Illinois Homecoming 2014 (and a glorious 28-24 victory against Minnesota), but also some great successes with the Fighting Illini Gameday Recycling Challenge. Sixty percent of the waste generated by more than 44,000 Illini fans that day was diverted from landfills. During the event, nearly 9,800 pounds of waste was composted, nearly 8,800 pounds was recycled, and 15 metric tons of carbon dioxide emissions were avoided.
Lead event coordinator Bart Bartels, sustainability outreach specialist at the Illinois Sustainable Technology Center (ISTC), calls this a definite success: "The way I see it, we were trying to change the behavior of 45,000 fans in three hours — that's no easy thing — and I think that was accomplished for the most part. I think that for the first time around, reaching a 60 percent landfill diversion rate is huge."
A big thanks to the 150 volunteers who helped make the event a success!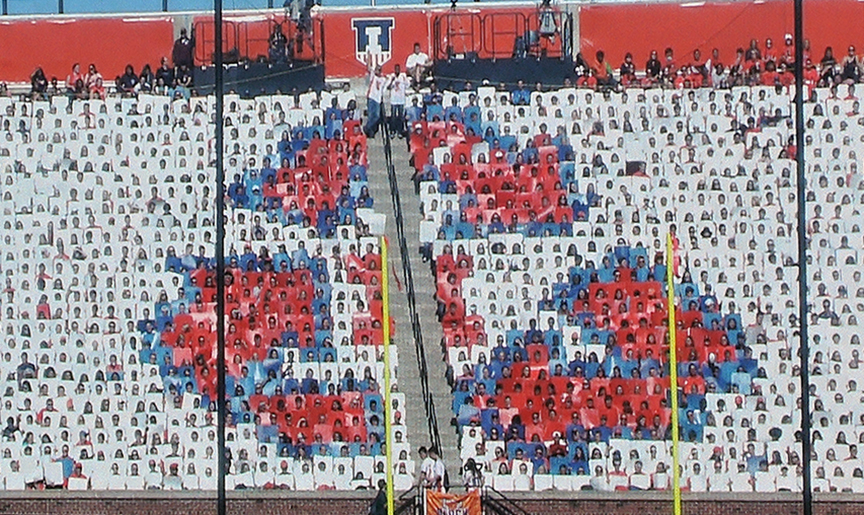 The Recycling Gameday Challenge is a friendly national competition for colleges and universities to promote recycling and waste diversion at home football games. During Illinois' homecoming game against the Gophers, all trash cans in Memorial Stadium were replaced with recycling stations with compost, recycling, and landfill bins. Student volunteers manned the stations to help fans sort their garbage into the correct bin.
To help raise awareness of the event, the Marching Illini formed a recycling symbol during the halftime show, and the Block-I student cheering section made both a recycling sign and a Recycling Gameday Challenge logo during its famous card stunts.
The Fighting Illini Gameday Recycling challenge was organized by ISTC, a division of the Prairie Research Institute. Joining ISTC in leading the cooperative initiative were the Division of Intercollegiate Athletics, Facilities & Services, and the Institute for Sustainability, Energy, and Environment (iSEE).
— OLIVIA HARRIS, iSEE Intern for Communications