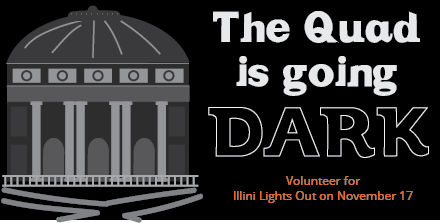 The Quad is going dark on Thursday, Nov. 17, and iSEE's Energy Conservation and Building Standards (ECBS) SWATeam needs your help to make it happen!
Join your fellow energy-saving Illini to turn out hundreds of lights in classrooms, labs, and lounges in buildings surrounding the Main Quad.
Volunteers will meet at Lincoln Hall (exact space will be communicated through the Facebook event) at 5:30p.m. to receive brief instructions and building assignments before being turned loose to flip switches. When all groups finish (about 6:30), we'll regroup at Lincoln Hall to eat pizza!
Grab a friend and put your names on the list now: https://goo.gl/forms/1qws38pysaTZkW2X2.
In the Spring 2016 event organized by the ECBS Sustainability Working Advisory Team, students turned out 1,500 lights and closed more than 70 open windows in eight buildings around the Quad. We're shooting to equal or better that number at the Nov. 17 (and future) Illini Lights Out events this academic year — which are funded by the Student Sustainability Committee.
Contact the team at illinilightsout@illinois.edu with any questions about this event.