After a long period of anticipation, the 2015 Illinois Climate Action Plan (iCAP) was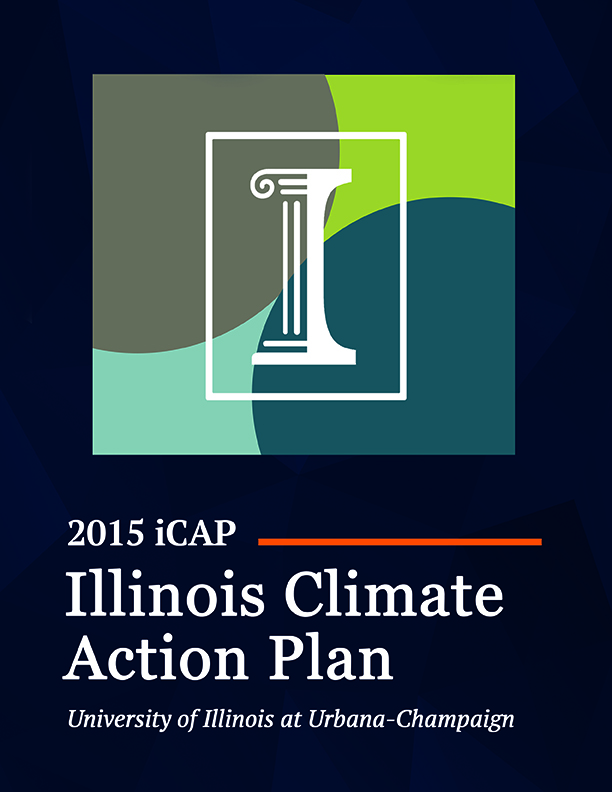 officially released on Oct. 21, 2015, Campus Sustainability Day.
The Institute for Sustainability, Energy, and Environment (iSEE) hosted an iCAP Forum on that day to launch the plan and give the students, staff, and faculty of the University of Illinois at Urbana-Champaign a taste of the progress made toward the plan's low-carbon objectives.
To start things off, Vice Chancellor for Research Peter Schiffer offered remarks on the importance of the iCAP to the campus' continued quality service to future students, the community, and the world.
"Given the uncertain fiscal situation of both our state and our university, we have a responsibility to carefully weigh the costs and benefits of such solutions. But we cannot afford to discard them. The costs of inaction are tremendous, as climate change threatens no only the environment but also the very future of our students," he said.
Ben McCall, iSEE Associate Director for Campus Sustainability, then took the podium to highlight the achievements of campus so far toward its sustainability goals. In the Association for the Advancement of Sustainability in Higher Education's (AASHE) 2015 Sustainable Campus Index, the University of Illinois at Urbana-Champaign was listed as a top performer in five categories. Illinois ranked No. 1 in Buildings and No. 2 in Water.
Members from the six Sustainability Working Advisory Teams (SWATeams), whose research and recommendations form the backbone of the Plan, presented short summaries of each of their corresponding chapters in the full 88-page iCAP document. They explained progress made so far, outlined future objectives, and shared some potential strategies for meeting emissions reduction targets.
Here are the highlights from each of their presentations:
The Energy Conservation and Building Standards SWATeam, — represented by Marian Huhman, Assistant Professor of Communication; Fred Hahn, Facilities & Services Associate Director of Engineering Services; and Karl Helmink, Facilities & Services Energy Conservation and Retro-commissioning — were excited to share that during the last seven years, campus has consistently exceeded the iCAP building emission reduction goals. To keep this trend going, the team said, campus has adopted a policy to cap total campus building square footage to in turn cap energy use. Other energy conservation strategies highlighted by the team included continued retrocommissioning efforts and lighting retrofits and replacing inefficient laboratory ventilation systems (fume hoods).
In his presentation for the Energy Generation, Purchasing, and Distribution SWATeam, Physics Professor Scott Willenbrock asked the question, "How can we get our campus to run on 100 percent renewable energy?" The first step, he said, is to transition as many systems as possible to run on electricity, because it is easy to generate cleanly. Then, campus can focus on generating more solar energy on site and buying solar and wind energy from off-campus.
Urban and Regional Planning Associate Professor Bumsoo Lee spoke on behalf of the Transportation SWATeam. He reported that, overall, emissions in this area have risen 18 percent over the 2008 baseline despite reductions of 5 and 6 percent  from commuting and the campus fleet respectively. Air travel, and its 30 percent increase in emissions, is to blame. Lee noted that the number of miles traveled by air each year might not actually be going up, but the new Travel and Expense Management (TEM) system is more accurately reporting air travel, resulting in an apparent increase. To bring air travel emissions back to the 2008 level, the Transportation team suggests making tele- and videoconferencing an institutional norm.
The Water and Stormwater SWATeam presentation was given by Fine and Applied Arts student Amy Liu. She said Illinois is making good progress in reducing water use because of the low-flow requirements for new buildings and renovations. Liu called stormwater the "new frontier" for sustainable water. Campus' default strategy for handling stormwater is to let it drain into the Boneyard Creek, she said, but this runoff could be used instead of drinking water sources for landscape watering and perhaps cooling towers. An assessment of landscape performance — including the volume and quality of stormwater runoff — will be the first step.
The takeaway message from the Purchasing, Waste and Recycling SWATeam presentation given by Natural Resources and Environmental Sciences Adjunct Professor Warren Lavey was clear: We must be more responsible with the materials we bring into the University and with what we send out from it. Lavey said environmental standards need to be applied to campus purchases — including a reduction in the purchase of nondurable (disposable) items. Campus sent slightly more waste to landfills in 2014 than 2008. Improving recycling rates by supplying more bins, so every landfill bin has a "buddy", and clearly labeling them will help.
Joseph Edwards, student in Natural Resources and Environmental Science (NRES), and Brent Lewis, Campus Landscape Architect, co-presented and answered questions about the goals for the Agriculture, Land Use, Food, and Sequestration SWATeam. The No. 1 item on the list for this team is to perform a comprehensive assessment of greenhouse gas emissions from agricultural operations. No plan for reduction of emissions can be made until we understand where the emissions are coming from. This assessment and plan should be complete by the end of FY16.
Nishant Makhijani, iSEE's Sustainability Engagement Specialist, wrapped up the Forum with a call to action.
"Share the iCAP with a friend or colleague," he said. "Get the word out there about what the campus is trying to achieve."
There are practical everyday things each of us can do to do our bit, he said. Little things around the office — turning off a computer at the end of the day, switching to recycled content paper — can make a big impact on a campus of this size when everyone pitches in. Visit iSEE's Get Involved page to learn all the large and small ways you can contribute to an environmentally-friendly campus.
Want to know more?
Find details on campus progress and the revised goals, objectives, and potential strategies in the complete 2015 Illinois Climate Action Plan.
If 88 pages sounds a little overwhelming, read and share our eight-page "iCAP in a Nutshell" to get directly to a boiled-down explanation of the objectives and strategies.