Green New Year's Resolutions
Looking to make a difference in 2017 with some greener choices? We scoured the internet for as many green habits lists we could find and packed them all into this mother-of-all-Green-Resolutions-list. Enjoy!
Things you can do from your couch
Save electricity by plugging appliances into a power strip and turning them off when not in use: That little red light that stays on on the DVD player, video game system, etc., uses power.
Stop paper bills from utility providers and paper statements from your bank and investment companies. Most companies will provide an e-bill or e-statement service; just do a search on their website.
Stop your junk mail. Ever get catalogs or coupons from stores you just don't shop at anymore? Save the paper; opt out using https://www.catalogchoice.org/. Or get on your favorite store's website to switch to an e-subscription.
Share, don't just like (or love). If you see an interesting story about social justice, climate action, sustainability, or environmental action, share it or retweet it so the people in your network will see it, too. Spread the word!
Don't print. Make the most of computer folders, digital notes apps, bulletin board sites like Pinterest, or voice memos to help you organize your thoughts.
Like and Follow your local government and local news stations on social media. Keep up to date with announcements
Subscribe to the newsletter of your U.S. Representative and Senators. Illinois natives can find them at https://www.govtrack.us/congress/members/IL. Tools like this are available in all states.
Unplug chargers and other appliances when they aren't in use.
Find a sustainability-related class for next semester.
Switch your magazine and newspaper subscriptions to an online or e-reader subscription.
Calculate your carbon footprint while on the Urbana-Champaign campus or in town nearby. Think of one way to reduce it —and commit to it.
Download a "conscious consumer" app for your phone to help you make value-based decisions next time you're at the store. We recommend these apps >>>
Remove online shopping sites from your bookmarks bar and lists to curb your habit of aimlessly shopping when bored. Boo, mindless consumerism!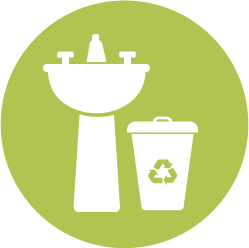 Things you can do around the house
Recycle everything! We're used to binning soda and water bottles, aluminum cans, office paper paper, and cereal boxes, but there are so many more products that you can clean up and recycle. Just turn items over and look for a recycling number.
Turn off lights when you leave a room. Duh.
Lower your thermostat a few degrees. Keep warm with fuzzy socks, layers indoors, blankets, and a hot water bottle on your feet.
Insulate your windows. Got a draft? Hang curtains in front of breezy windows or buy window plastic to seal out cold air and keep your heating costs (and emissions) down.See how to do it >>>
Shorten showers.
Freeze leftovers to reduce food waste. Big batches of soup or chili usually freeze very well.
Eat less meat. Switching just one or two meals each week to non-meat protein sources can save a lot of water and energy at the food-rearing and processing levels.
Eat seasonally. Growing certain foods out of season takes many extra inputs of energy, water, and fertilizer. A quick online search will show you what fruits and veggies are available right now, and likely traveled fewer miles to reach you.
Set up a no-stink compost bin under your sink. Vermiculture is the process of composting with worms, which helps reduce smell. Here's just one of many articles on how to get started >>>
You don't need to rinse dishes before they go into the dishwasher.
When you let water run to heat up a shower, catch it in a bucket and use that to do dishes or water plants.
Use wood matches, not lighters. Less plastic waste, no fossil-derived fuels.
Never buy bottled water again.

Cut back on paper towels. Old T-shirts make great kitchen rags and you can wash them.

Try making your own toothpaste, deodorant, lotion, and liquid soap in reusable containers to limit plastics waste. The internet is full of recipes!
Hang your laundry to dry.
Switch to cloth napkins.
Commit to switching just one item you buy regularly (soap, detergent, makeup, vegetables, paper, lotion, beer) to a local and/or ethical source/brand.
Only run the washing machine and dishwasher when you can do a full load.
When hand washing dishes, fill the sink with a little water to start, and let it fill up more with the rinse water. Keep turning the faucet on and off — don't let it run all the time.
Things you can do outside the house
Bring your cloth shopping bag. It takes 42 uses of canvas bag to make it eco-neutral (and it's better for the environment than a plastic bag over its lifetime).
Bring your own produce bags. At minimum, reuse a plastic one; at best, buy or make some lightweight cloth sacks.
Avoid fast fashion. If it's $4, it's too good to be true.
Shop used or consignment:
— Plato's Closet
— Karen's Kloset
— Goodwill (Savoy) — 1201 Savoy Plaza Lane, Savoy, IL 61874
— Goodwill (Champaign) — 912 W. Anthony Drive, Champaign, IL 61821
— Briella's Boutique
— Salvation Army Thrift Store
— Go Retro
— Dandelion Vintage & Used Clothing
— All Things Kids Inc.
— Twice is Nice Thrift Shop
— Crossroads Corner Consignment
— Antiques & More
— Classic Home Consignment
— Habitat for Humanity ReStore
— Carle Auxiliary Resale Boutique
— University YMCA Dump & Run sale (August annually)
— The I.D.E.A Store
Bring your own cup to the coffee shop. (Or at least ditch the cardboard sleeve.)
Bring your own takeaway container when you eat out.
Replace at least one car trip each week with riding the bus, riding a bike, or carpool.
Shop smart: Plan meals, be on the lookout for marketing tricks, and avoid impulse buys.
Instead of impulse buys, draw a picture of it. Wait a week. Do you still think about that thing you wanted?
Take fewer napkins when you eat out.
Donate what you aren't using. Places to go in Champaign-Urbana >>>
Don't own it? Follow the Sarah Lazarovic's "Buyerarchy of Needs."
Repair, don't replace, a broken laptop or phone. Find a local shop using listYellowpages list, or this Yelp list. Also, check out the Illini Gadget Garage >>>
Ask for an emailed receipt. Or no receipt at all. If you're not using them to track spending, skip the paper.
Attend a meeting of local community environmental group (master gardeners, community gardens, Audubon Society, Sierra Club, etc.) or an energy or environment University of Illinois student organization.
Just go enjoy nature!
Take a basic sewing class so you can mend much-loved clothing items that start to fray or wear. Or so you can alter your own clothes or upcycle others.
All of these things seem pretty common sense, but doing one, some or many of these things will make you more eco-friendly and the world a better place. Let us know what you commit to — and how you're doing, via email >>>