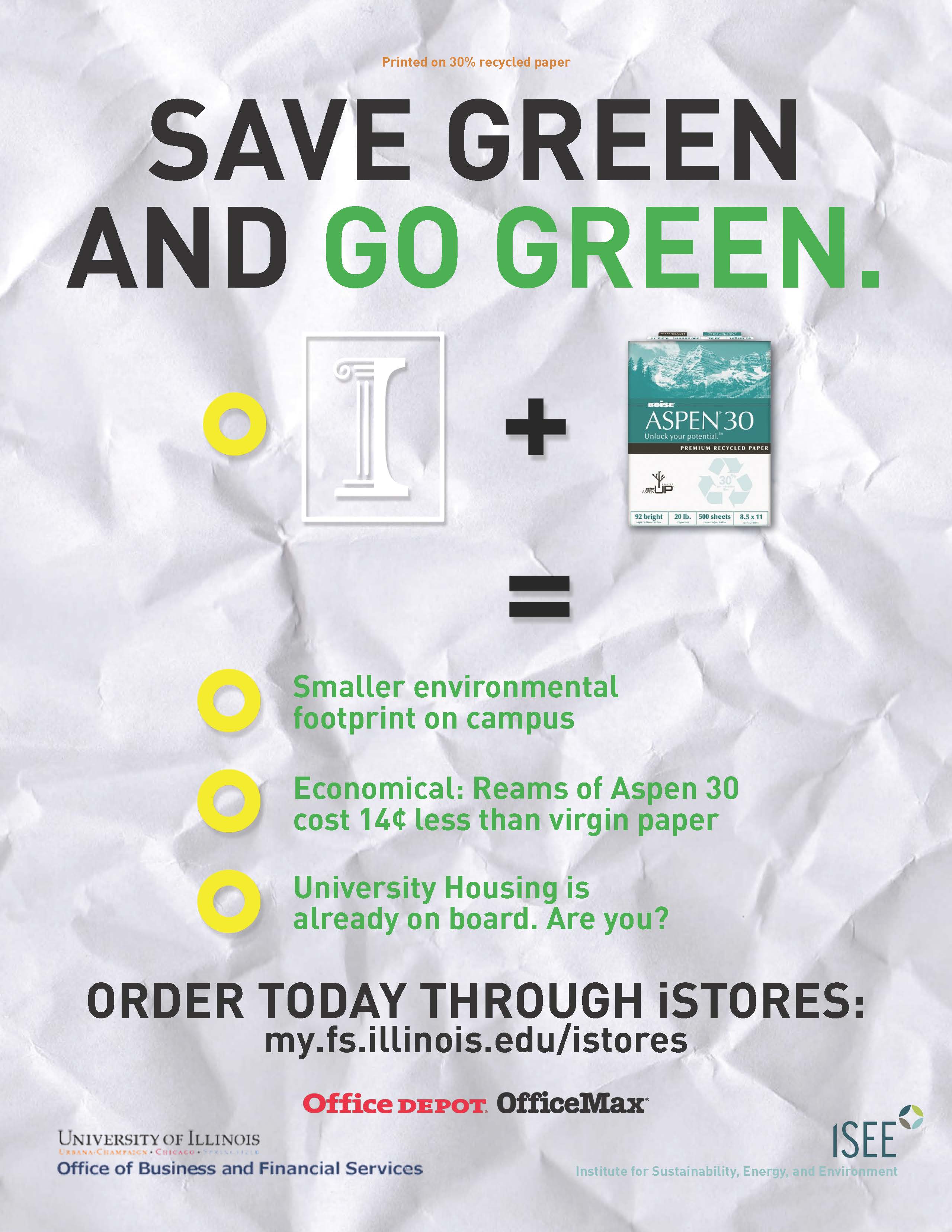 APRIL 7, 2015 — Offices on the University of Illinois Urbana-Champaign campus can now buy a ream of 30% recycled paper from Facilities & Services' iStores punch out for less cost than a ream of virgin paper from the OfficeMax punch out on iBuy.
In an effort to reduce demands on new paper made only from tree pulp, the Institute for Sustainability, Energy, and Environment (iSEE) and the Office of Business and Financial Services (OBFS) are inviting all campus offices to participate in this new opportunity to save green and go green. After a recent agreement between Office Depot OfficeMax and F&S Stores & Receiving, Aspen 30 high-quality 30% recycled content office paper can now be purchased from iStores punch out for $3.16 per ream, $31.28 per case (10 reams), and $1,226 per pallet (40 cases). By comparison, virgin paper from the OfficeMax punch out costs $3.30 per ream.
University Housing is the first customer lining up to take advantage of the newly priced environmental paper option. As a participant in iSEE's Certified Green Office program, Housing already had committed to buying at least 30% recycled content and FSC-certified paper; now Housing will fulfill all of its office paper needs with Aspen 30 purchased through iStores.
"I would whole-heartedly encourage all University offices to follow Housing's lead and make the switch," said Ben McCall, iSEE's Associate Director for Campus Sustainability. "Lots of hard work goes into securing opportunities like these to reduce the environmental footprint on our campus, and I hope we all do our part."
The campus uses an estimated 300 tons of virgin paper per year. According to calculations made through the Environmental Paper Network's Paper Calculator, if all campus offices switched from 0% recycled content paper to 30% recycled content paper, it could save 2,182 trees from being cut, 188,026 pounds of carbon dioxide equivalent from being emitted into the atmosphere, and 1,019,769 gallons of water from being used for paper production annually.
Now you can green your office by making a small switch with a big impact.
Order today; prices subject to change.