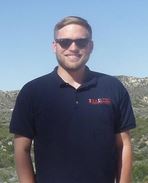 Garrett Fullerton is a second-year masters student studying civil engineering. His primary focus is on freight rail transportation. Outside of the classroom, he is involved in the American Railway Engineering and Maintenance-of-Way Association at both the local and national level — and in the Transportation Research Board at the national level.
He definitely feels the challenge of accomplishing big things in his short time on the Transportation SWATeam, but is willing to "jump right in" to make things happen.
As he sees it, campus' biggest problem is the overall lack of research and knowledge in the area of green transportation. "There isn't a whole lot of data directly applicable to C-U, and a lot of the new technologies and techniques to become more sustainable in transportation aren't fully developed or understood," he said.
Garrett would like to build on campus' big strengths — the density of campus and the already existing Champaign-Urbana Mass Transit District — to make campus more environmentally friendly. "I want to help the team establish a framework for reaching lofty but attainable goals," he said.
While he admits that faculty and staff have a more incentive to make the U of I more sustainable because they'll feel the benefits longer, he encourages students to help maintain the culture of sustainability. "Students should find ways to create and share opportunities and report obstacles they experience in their daily life around campus. Everyone needs to be active in pursuing these goals and be willing to make changes and sacrifices to do so," he said.
In spare moments, you may find Garrett relaxing with a cup of coffee and watching Netflix. He enjoys playing basketball and racquetball "poorly" at the gym with his friends and colleagues.