13apr3:30 pm"The Outlook for Nuclear Energy in the U.S."lecture by John Kotek
Event Details

Live webcast: http://go.illinois.edu/NCSAEventsMedia

Register: https://illinois.edu/fb/sec/9973383

"The Outlook for Nuclear Energy in the U.S." is presented by John Kotek, VP for Policy Development and Public Affairs at the Nuclear Energy Institute and former Principal Deputy Assistant Secretary at the U.S. Department of Energy Office of Nuclear Energy during the Obama administration.

Kotek's discussion on the outlook for nuclear energy in the United States, coving today's reactors, prospects for new construction, international market opportunities, and innovations for nuclear technologies.

This presentation is part of the NPRE Leadership Speaker Series sponsored by the NPRE Constituent Alumni and Industry Advisory Board. It is intended to provide a forum for global leaders to present views and policies, particularly those impacting the disciplines of nuclear, plasma, and radiological engineering, as well as all other issues relevant to energy sustainability.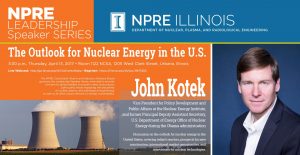 Location

NCSA Room 1122

1205 W Clark St, Urbana, IL 61801
Organizer
and Radiological Engineering