As college students, we all want to inspire change and pursue our passions. Unfortunately, the everyday stress of being a student can overtake our ability to see these ambitions through. Some days there just isn't enough time. And when there is time, we are too tired — it happens to the best of us.
But students involved in the University of Illinois student chapter of Enactus do not let their responsibilities as students derail them from combining their passions for social entrepreneurship, sustainability, and lending a hand in the community.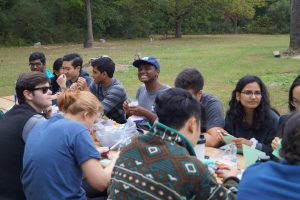 These three passions are the essence of the organization, junior member Hui Yi Koh said.
"We are a social entrepreneurship organization, so we look at the root problems of community issues. We examine how we can apply entrepreneurial business principles to them," Koh said.
Currently, Enactus leads nine different projects in the Champaign-Urbana area, some of which originated as a result of the new member training process. Stay Glassy — a project focused on repurposing used glassware — and Grounds for Growth — which merges coffee, soap, and skincare — embody the organization's mission to unite entrepreneurship and sustainability through community projects. These, along with the remaining seven ventures, will be discussed in greater detail in future articles. Stay tuned!
Koh said that through these diverse projects, Enactus is "bringing together the many aspects of sustainability, and trying to show how even as college students we can create an impact that has a ripple effect on people around us."
One of the most important aspects of Enactus is that this ripple effect lasts longer than members' time on this campus, senior member Grace O'Malley said.
"Enactus has taught me how to make meaningful impacts in the communities where I live. I know to dig deeper to understand the problem in order to make a meaningful solution," she said.
Part of a meaningful solution involves "delinking" a project, a best-case scenario for the organization and community.
"We delink the project if the project is sustainable enough that community members can take on the project and independently operate it," Koh said.
Because of the impact Enactus has on the community and the time commitment required, one has to apply for a spot in the organization.
Applications are open in the Fall and Spring semesters, and all students are encouraged to apply. If the application is accepted, an interview process begins to decide whether or not a position will be offered.
"The reason we do this is not to purely be selective, but because our projects require a lot of work and so everyone has something to do on the project," Koh said.
Once accepted into the organization, members work on a project based on either their current skills or skills they want to hone. Once the semester is over, members can choose to stay on the same project or explore a different one.
"The reason we do allow members to switch projects is so we can develop our members. We want our members to learn something new every semester," Koh said.
Because Enactus is committed to making a difference throughout the community, including fellow students, anyone who wants to volunteer on a lower-commitment basis is encouraged to do so.
"Enactus is a great organization to get to know and keep up with because you can learn about the community needs that are prevalent in the Urbana-Champaign area. Hopefully we can inspire individuals who may not be in Enactus or don't have the time to commit to our projects, to explore more the Urbana-Champaign community, get to know the individuals," Koh said.
From the original spark of passion to the final ripple effect of its projects, Enactus proves to not only impact its members and campus but the entire community.
Learn more on the Enactus Illinois website, or follow the organization on Facebook.
*Stay tuned over the course of the semester for more detailed descriptions of each of the projects Enactus is currently working on.
— Article by iSEE Communications Intern Chloe Rice