One of the biggest struggles of forging a sustainable path to the future is making sense of the complexity of the problems we face. It's not enough to figure out how to produce enough food for 10 billion people — we must also rise to the challenge of producing that food in a changing and unstable climate. And the considerations don't end there. How can we produce this much food sustainably, taking into account carbon emissions and water conservation?
The intricacies of climate systems are enough to make anyone's head spin, but with a little computing power and patience, Elena Blanc-Betes, a Postdoctoral Researcher at the University of Illinois and Co-Investigator on iSEE's Multi-Paddock Grazing project, is using the predictive power of biogeochemical models to light the way.
For Blanc-Betes, it all started with curiosity.
"Nature is like a big puzzle. Every piece of the puzzle exists in a very fine equilibrium with all the rest of the pieces. And when a piece goes out of place, the rest of the pieces need to rearrange to find that equilibrium again," she said.
That intrigue with the natural systems all around us led Blanc-Betes to the University of Barcelona, where she pursued a bachelor's degree in biological sciences and a master's degree in environmental engineering. While in Barcelona, she worked as a lab manager at the Institute of Marine Sciences and also as a research assistant in a forest ecology lab. Eager to dive deeper and answer her own research questions, she traveled to the University of Illinois at Chicago, where she earned her Ph.D. in ecology and evolution.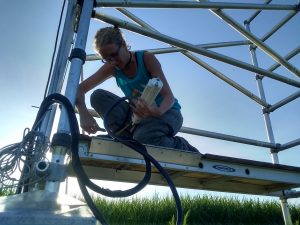 Her Ph.D. research focused on the impacts of projected changes in precipitation in the arctic. The arctic plays a key role in shaping future climate because arctic regions contain up to 50% of the global terrestrial soil organic carbon protected within permanently frozen soils.
"The big challenge is that changes in climate may trigger the release of that carbon into the atmosphere in the form of CO2 and other greenhouse gases, causing further warming and other climate effects," Blanc-Betes said.
She specifically studied how changes in precipitation will affect the vulnerability of this arctic carbon, and how the magnitude, timing, and form of carbon release may affect future climate trends.
Blanc-Betes researched these changes with a combination of empirical and in silico (computer modeling) approaches. Her biogeochemical models consist of countless algorithms that researchers fine-tune to approximate natural systems.
"Models are not magic — they're as accurate as the data you create them with, and as accurate as the algorithms that reproduce reality. So naturally, as we learn more about the system and gather more data, the models evolve alongside our understanding," she said.
With the satisfaction of completing her arctic climate study and her Ph.D., Blanc-Betes came to the University of Illinois in Urbana-Champaign, where she now works in iSEE Baum Family Director Evan H. DeLucia's laboratory and studies a variety of different natural and managed systems using biogeochemical models.
She's currently a part of the iSEE-funded Multi-Paddock Grazing project, which aims to investigate a new livestock grazing method's potential to reduce the emission of greenhouse gases, and improve soil carbon sequestration and water use efficiency, as opposed to business-as-usual continuous grazing.
At their study site in Alabama, the researchers collect data from control pastures and pastures where adaptive multi-paddock grazing is used. This data is then integrated into biogeochemical models to further improve the team's understanding of how different management affects these pastures and their feedbacks.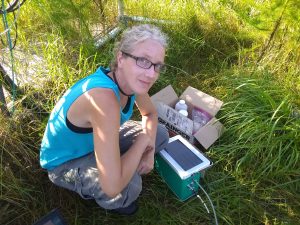 Her expertise doesn't end there. Blanc-Betes applies her modeling proficiency to a variety of other projects as well.
"There's always something interesting to model — it's very exciting," she said.
She's currently investigating the impacts of transforming Conservation Reserve Program (CRP) land into land used for biofuel production. CRP land is environmentally sensitive land retired from agricultural production for conserving soil, water, and wildlife resources. The conversion of CRP acres to highly productive perennials provides an opportunity to meet biofuel targets while preserving ecosystem health and quality without threatening food security.
She's also studying the potential of basalt as a soil amendment. Soil amendments are materials added to soil to improve its physical properties, such as permeability, water retention, drainage, aeration, and more. Basalt amendments are appealing because they have the potential to reduce greenhouse gas emissions from the soil, improve the productivity of crops, and increase CO2 sequestration from the atmosphere.
It stands to reason that there's a lot more that goes into these models than just a few lines of code.
"There's plenty to do," she said. "Updates, calibrations, parameterizations. Biogeochemical models are in constant development, so much of the time, I'm data mining for identifying response patterns to better represent ecosystem functioning."
For much of her work, she collaborates with field ecologists, who provide invaluable field data, and other ecosystem and earth system modelers to improve model estimates.
As a member of the DeLucia Lab, Blanc-Betes enjoys working with a variety of expert researchers from different disciplines and backgrounds.
"There's a lot of room for collaboration," she said. "What I like the most about this team is that we're all constantly learning new things from each other, always digging a little deeper into what's going on and how the system works."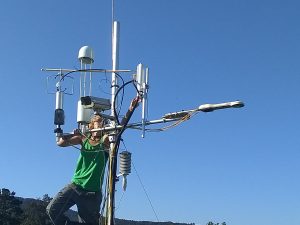 Looking forward to her future research, Blanc-Betes hopes to continue to find opportunities to study biogeochemical systems. Her goal is to find ways we can better manage those systems in order to optimize our ecosystems as the climate changes all around us.
"A sustainable world is one where we can grow as a global society, without destroying the environment that sustains that society. That entitles a lot of things, and I want to do my part," she said.
Outside of work, Blanc-Betes describes herself as someone with "many hobbies, but little time to enjoy them." When she was living in Barcelona next to the ocean, she could often be seen scuba diving, kayaking, rowing, or body surfing.
"Those are a little difficult here," she joked, "since we just have corn."
Thankfully, she has plenty of other hobbies that don't require a body of water, like music and concerts, reading, and photography.
— Article by iSEE Communications Intern April Wendling