Earth Month 2019 Schedule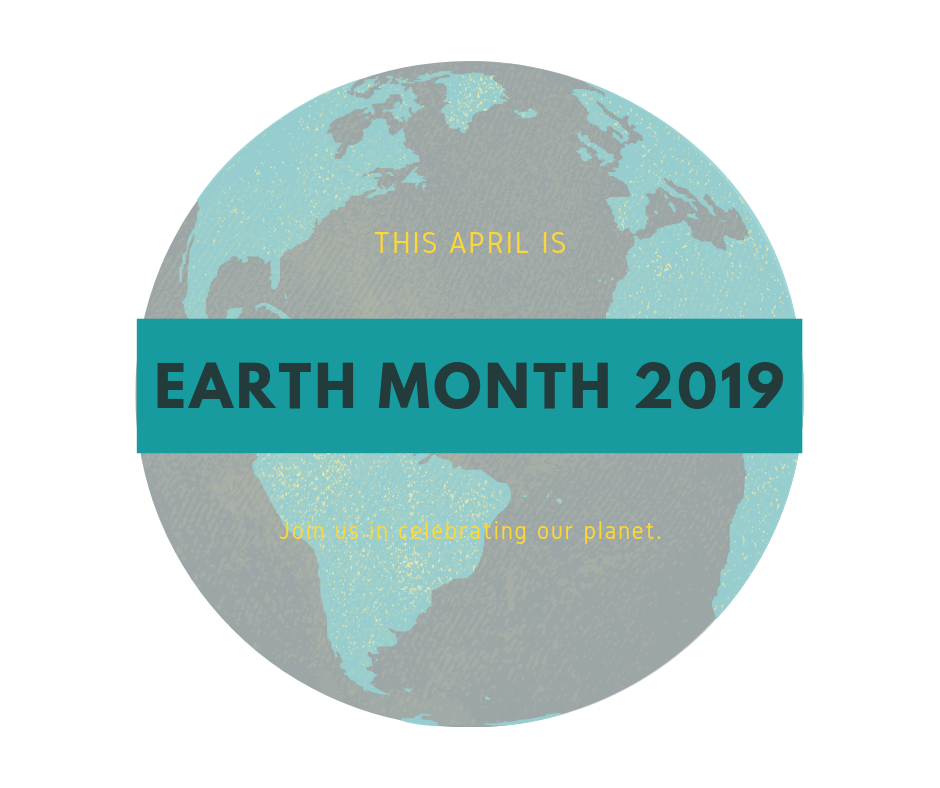 Each year, students at the University of Illinois show their commitment to sustainability by celebrating Earth Month in April. With the help of Students for Environmental Concerns (SECS) — a student organization that promotes environmental action — we coordinate educational and fun events for students and community members alike during Earth Week. In addition to Earth Week, organizations across campus and the Champaign-Urbana community arrange lectures, seminars, workshops, volunteer opportunities, and more throughout the month of April to acknowledge our planet. Here's how we plan to celebrate this year:
Friday, April 19
---
Environmental Humanities: Undergrad Research Symposium
Are you interested in how the sciences, arts, and humanities intersect to address environmental issues? The IPRH-Mellon Environmental Humanities Undergraduate Research Group is a collective of students exploring how matters of the environment can be understood through a humanistic lens. As we do so, we seek to dive into the untold narratives of physical and social environments. Join us in breaking the boundaries of your academic discipline and engaging with student researchers in other fields! Learn more >>>
1-3:30 p.m.   |   IPRH Lecture Hall, Levis Faculty Center, Fourth Floor (919 W. Illinois St., Urbana)

Nature at Night: Forest Forbs
Join the Champaign County Forest Preserve to welcome the emergence of our early spring forest flowers by taking a hike on Flicker Woods Trail. Find out what plants are just starting to bloom, what to look for soon, and learn some useful identification techniques. In honor of Earth Day, we will also tidy up the trail and surrounding area during our hike. Learn more >>>
5:30-7 p.m.   |   Interpretive Center, Homer Lake Forest Preserve (2573 S. Homer Lake Road, Homer)

Moon Walks with the Urbana Park District
Join the Urbana Park District for a special full moon hike! Experience a new side of Busey Woods on these guided hikes scheduled on night of the full moon. Listen for owls and other nocturnal creatures, and learn how they survive and thrive. Learn more >>>
7:30-9 p.m.   |  Anita Purves Nature Center (1505 N. Broadway, Urbana)
Saturday, April 20
---
Flower Power Volunteer Day
Delight FlowerFarm welcomes volunteers from the community to come and help us transplant spring seedlings on the farm. Celebrate Earth Day & plant some flowers! There will likely be other farm tasks for volunteers to help with, depending on experience and weather. Get in the sun, get your hands dirty, and get your Springtime on–it's time to celebrate all things green! There will be fresh fruit, snacks, & beverages available for volunteers. The open air & natural surroundings will surely warm your heart & soul.  Learn more >>>
1-3 p.m.   |   Delight Flower Farm (4410 N. Lincoln Ave., Champaign)

EarthCare Expo
Join the Urbana Park District and celebrate Earth Day early as you meet Earth-friendly folks and engage with activities and displays from local Faith in Place partners. Some of the events include Short Film Screenings, Nature Hike in Busey Woods, and the EarthCare Expo. Additional fun will take place outdoors at the adjacent Friendship Grove Nature Playscape! Learn more >>>
1-4 p.m.   |   Anita Purves Nature Center (1505 N. Broadway, Urbana)
Monday, April 22 — EARTH DAY!
---
Environmental Quad Day
This Earth Day, the Illinois Student Government is hosting a carnival themed Environmental Quad Day to bring together all the RSOs working towards sustainability and environmental protection on campus. Join us on the quad for Green RSOs, refreshments, raffles, and games! Learn more >>>
11 a.m.-3 p.m.   |   Main Quad (W. Green St., Urbana)
LAS Loves the Earth Day
The College of LAS, in conjunction with iSEE, LAS Leaders, and the Student Sustainability Leadership Council, invites students, alumni, faculty, and staff to join us for a variety of Earth Day activities. Some activities include: a Lights Off light switch cover station to help people create reminders to turn off their lights; "Tree-via (a fun trivia game with iSEE for a chance to win prizes), and a chance to learn more about the Illini Lights Out events on campus. Learn more >>>
11 a.m.-1 p.m.   |   Main Quad (West Green Street, Urbana)
F&S Solar Farm Open House
The Solar Farm has an average annual carbon emission reduction equivalent to removing 1,285 passenger cars from Illinois roadways. On Earth Day, the gate will be open for 90 minutes during the afternoon for visitors to stop by, take pictures, and check out the informative posters. There will also be cookies! Directions: South from First and Windsor until you see a small parking area for the Natural Resources pond area; cross over the stream and take the first right onto the gravel path. Follow that to the gated entry. Learn more >>>
1:30-3 p.m.   |   Solar Farm (2407 S. First St., Champaign)
Wildflower Seed Bomb Workshop
Celebrate Earth Day with the Illini Union Bookstore in the Authors Corner! Make wildflower seed bombs to beautify your world.  Learn more >>>
3-6 p.m.   |   Illini Union Bookstore (809 S. Wright St., Champaign)
Fossil Free Rally
Celebrate Earth Day by  supporting the organization campaigning that this campus divest from fossil fuels, which contribute to climate refugees, economic inequality, and irreversible damage to our planet and our futures! Fossil Free UIUC members need YOU to ensure that the Board of Trustees acts democratically and supports renewable energy over dirty energy. 75% of students voted in favor of fossil fuel divestment and holding the U of I accountable for financing climate change! Learn more >>>
3-4:30 p.m.   |   University YMCA (1001 S. Wright St., Champaign)
Aquaponics 101
Join Students for Environmental Concerns (SECS) at the YMCA for Earth Day! More details and signup form coming soon!
4-5 p.m.   |   University YMCA (1001 S. Wright St., Champaign

Charles David Keeling Lecture: "Severe Thunderstorms and Climate"
Kerry Emanuel, the Cecil and Ida Green Professor of Atmospheric Sciences and co-director of the Lorenz Center at MIT, will discuss one of the main environmental prerequisites for severe storms: Convective Available Potential Energy (CAPE). Emanuel will also explain just how climate change could affect CAPE and how our new understanding of CAPE may allow for seasonal prediction of severe storm activity. More on the lecture >>>
5 p.m.   |   Third Floor, Levis Faculty Center (919 W. Illinois St., Urbana)
Clean Energy Jobs Forum
Join Sierra Club on Earth Day for a forum highlighting the Clean Energy Jobs Act and what is being done to create a more sustainable Illinois! Join local leaders, policy makers, the The Illinois Environmental Council, and the Citizens Utility Board for a forum about Illinois clean energy future! Other local organizations will be tabling — Sierra Club Prairie Group – Illinois Chapter, Faith in Place Action Fund, UIUC Beyond Coal, Food & Water Watch – Midwest, Prairie Rivers Network, and more! Learn more >>>
6-8 p.m.   |   Illinois Terminal, 4th Floor (45 E. University Ave., Champaign)
Tuesday, April 23
---
Our Planet, Our Future
Join Students for Environmental Concerns (SECS) on the Quad for this Earth Week event.
10 a.m.-3 p.m.   |   Main Quad (W. Green St., Urbana)
Ogura Lecture: "Observation and Modeling of Mesoscale Convective Systems and their Large-scale Environments"
In this lecture hosted by the Department of Atmospheric Sciences, L. Ruby Leung will discuss organized mesoscale convective systems (MCSs), responsible for ~60% of summer rainfall in the U.S. Great Plains and 50-60% of tropical rainfall globally. Deficiency in representing MCSs contributes significantly to climate model biases in simulating precipitation and its variability over the central U.S. and tropical circulation, with important implications to modeling the regional and global water cycles. In the past decades, observed increases in springtime total and extreme rainfall in the central U.S. were dominated by increased frequency and intensity of long-lasting MCSs. Understanding the environmental conditions producing long-lived MCSs is a priority in determining how precipitation characteristics may change in the future.
3:30 p.m.   |   Natural History Building Room 2079 (1301 W. Green St., Urbana)

 

SustainabiliTEA Roundtable: Environmentalism and Human Rights
Join Students for Environmental Concerns (SECS) at the YMCA for this Earth Week event.
4-5 p.m.   |   University YMCA (1001 S. Wright St., Champaign)

 

Groundwater and Geothermal Resources: From the Guarani Aquifer Temperature in Brazil to the Geothermal Energy in Urbana
Join the Illinois Natural History Survey Seminar Committee at the Natural History Building for a lecture from Yu-Feng Forrest Lin, ISGS, Director of Illinois Water Research Center and Assoc. Director of Sea Grant in honor of Earth Week. This presentation will discuss advances in temperature observation based on several studies using a fiber-optic distributed temperature sensing (FO-DTS) system at the Guarani aquifer system and a thermal response test for geothermal exchange in Urbana as an example on Water-Energy nexus study. Learn more >>>
4 p.m.   |  1005 Forbes Natural History Building (1816 S Oak Street, Champaign)
Bike into Spring
The Champaign-Urbana Bike Month Planning Team and Urbana Park District are coming to your neighborhood this spring to help neighbors get ready for C-U Bike Month 2019! Bring your bike for basic help to get it ready to ride for Bike to Work Day (May 1st) and Bike to School Day (May 8th). We will provide a bike map and safety materials.
4:30-6 p.m.   |   Douglass Park (501 E. Eureka St., Champaign)
Climate Refugees Film and Discussion
Join the New American Welcome Center in partnership with Students for Environmental Concerns (SECS) for a screening of "Climate Refugees." Attendees will have the opportunity to view the documentary and engage with a panel to discuss climate change and its effects on migration.
5:30-8 p.m.   |   University YMCA (1001 S. Wright St., Champaign)

Wednesday, April 24
---
Plant & Bake Sale — Champaign County Healthcare Consumers
Join Students for Environmental Concerns (SECS) on the Quad in honor of Earth Week! SECS will have a carefully curated selection of succulents and cacti ripe for the picking. Half of all of the proceeds will benefit the Champaign County Health Care Consumer's 5th and Hill campaign to have Ameren clean up a local neighborhood whose soil and groundwater has been contaminated by hazardous coal tar. Learn more >>>
11 a.m.-3 p.m.   |   Illini Union Southwest Foyer (1401 W. Green St., Urbana)
Urban Agriculture Tours
Join Students for Environmental Concerns (SECS) at the Turner Greenhouses for Earth Week! More details coming soon!
11 a.m.-3 p.m.   |   Turner Greenhouses, behind Turner Hall (1102 S. Goodwin Ave., Urbana)
Student Climate Action Forum
Join the Student Sustainability Leadership Council (SSLC) to let members know what matters to you — and where our campus needs to focus sustainability efforts. Whether you're the leader of a sustainability RSO or a student with an interest in a greener campus, we want to hear from you. During the forum, you'll collaborate with fellow students to learn more about our current efforts, help rank our highest priorities, and brainstorm new climate solutions. Refreshments will be provided.
12:15-1:30 p.m.   |   iSEE Collaboratory (NSRC Room 337, 1101 W. Peabody Ave., Urbana)
Dorm Room Farming 101
Join Students for Environmental Concerns (SECS) on the front lawn of the YMCA in honor of Earth Week and learn about all the ways you can grow food in a relatively small living space! Learn more >>>
5 p.m.   |   University YMCA Front Lawn (1001 S. Wright St., Champaign)
Bath Bomb Lab
Make your own botanical bath bomb with the Horticulture Club! Learn how flowers and essential oils can help your relax.
Learn more >>>
6-8 p.m.   |   Plant Biology Greenhouses (1201 S. Dorner Drive, Urbana)
Resolving the Global Refugee Crisis
Join SECS to discuss questions surrounding the Global Refugee Crisis. Why do people become displaced? Where can they go? What relief and prevention solutions offer the most promise? What sociopolitical changes are necessary? How can we help as students and activists? During this workshop, we'll be working to answer these questions and more. RSVP >>>
6:30-9 p.m.  |   University YMCA (1001 S. Wright St., Champaign)
Thursday, April 25
---
SECs on the Quad
Join Students for Environmental Concerns (SECS) on the Quad!
11 a.m.-2 p.m.   |   Anniversary Plaza (W. Green St., Urbana)
Illinois Quad Tree Walk
Join the U of I Horticulture Club and the Campus Tree Advisory Committee by grabbing all of your tree-huggin' friends and come on out for an earth-friendly stroll on the Quad! The walk is self-guided, so start and end whenever you like. Just look for the orange table stationed south of the Illini Union to pick up your Illini tree guide.
1-4 p.m.   |   Illini Union (1401 W. Green St., Urbana)

Bike into Spring
The Champaign-Urbana Bike Month Planning Team and Urbana Park District are coming to your neighborhood this spring to help neighbors get ready for C-U Bike Month 2019! Bring your bike for basic help to get it ready to ride for Bike to Work Day (May 1) and Bike to School Day (May 8). We will provide a bike map and safety materials.
4:30-6 p.m.   |   Garden Hills Park (1701 Bloomington Road, Champaign)
Green Business Panel
Come out and join Phi Chi Theta Professional Business Fraternity & Student Sustainability Leadership Council to listen to panelists from the Clean Energy Trust & Illinois Green Business Association. Panelists will be discussing how to use business and investment strategies as a mechanism for positive environmental & economic growth. Learn More >>>
5-7 p.m.   |   Wohlers Hall room 141 (1206 S. 6th St., Champaign)
Sustainable Design Workshop
Join Students for Environmental Concerns (SECS) for a workshop in honor of Earth Week! More details coming soon!
5 p.m.   |   Natural History Building 2078 (1301 W. Green St., Urbana)
Fossil Free UIUC Teach-In
Join SECS to find out about what fossil fuel divestment is and why we need YOU to convince U of I to take part in this international climate movement that began with students like us. It's time U of I truly invests in our futures. Learn more >>>
6:30-7:30 p.m.   |   Noyes Lab room 217 (505 S. Matthews Ave., Urbana)
Bike Maintenance 101 Information Sessions
Promote Earth Month by riding your bike around campus. In this informative session, you will learn how to lube a chain, fix a flat tire in record time, and make other minor adjustments to your bicycle that will keep you riding smoothly and prolong your bike's life. Note: This is a demonstration class; please do not bring your bike. Learn more >>>
7-8 p.m.   |   Winter Garden, ARC (201 E. Peabody, Champaign)

Earth Week Art Show and Open Mic Night
Join the Students for Environmental Concerns (SECS) for a night of art and activism in honor of Earth Week. Local artists will display or perform their work involving the themes of environment, migration, and justice. We will also have sticker- and sign-making materials available. Let's celebrate the Earth and the future we're working to build! Learn more >>>
8-10 p.m.  |   Channing Murray Foundation (1209 W. Oregon St., Urbana)

 
Friday, April 26
---
SECS Earth Week Clothing Swap
Students for Environmental Concerns (SECS) invites you to participate in the Earth Week Clothing Swap. Drop off your gently used clothing then swap out your donations for other students' items. Every clothing item you donate gets you one  item from the donation pool at the clothing swap. Thrifting is a more sustainable, economical, and humane option to buying new clothes, and we guarantee you'll find stuff here. Last year, SECS had thousands of items to choose from and hundreds of participants! If you didn't get a chance to donate clothes, don't worry: SECS will also sell them at cheap prices. Learn more >>>
10 a.m.-5 p.m.   |   University YMCA (1001 S. Wright St., Champaign)

Bike Maintenance — Fix-a-Flat
Promote Earth Month by riding your bike around campus. Come to this one-hour informational hands-on class to learn how to solve one of the most common bicycle repair problems! We'll cover the basics of removing a wheel and tire, replacing the tube, and reinstalling the wheel on the bicycle. All tools and parts will be provided. Learn more >>>
11 a.m.-noon   |   Campus Bike Center (608 E. Pennsylvania Ave., Urbana)
Arbor Day Celebration
Please join Senior Associate Chancellor Mike DeLorenzo for the reading of the Arbor Day Proclamation, and the tree recognition ceremony in the green space to the north of Lincoln Avenue Residence Hall. If you've never met a state champion tree, now is your chance! The largest Yellowwood Tree in Illinois is on our campus, and it will be officially recognized by the Illinois Department of Natural Resources.
Noon-1 p.m.   |   Just North of the Lincoln Ave. Residence Halls (1005 S. Lincoln Ave., Urbana)

Volunteering at the Student Farm
Join Students for Environmental Concerns (SECS) at the Sustainable Student Farm in honor of Earth Week!
3 p.m.   |   Student Farm (3505 S. Lincoln Ave., Urbana)
CAS MillerComm Lecture: "The Big Dry: New Drought Projections for the Southwest, Great Lakes, and Beyond"
In this lecture hosted by the Center for Advanced Studies (CAS), Jonathan Overpeck, the Samuel A. Graham Dean of the School for Environment and Sustainability at the University of Michigan, will strengthen the case for actions to reduce greenhouse gas emissions. Overpeck will explain how continued anthropogenic climate change will result in current drylands around the globe becoming even drier, causing serious implications for terrestrial systems. More on the lecture >>>
3:30 p.m.   |   Knight Auditorium, Spurlock Museum (600 S. Gregory St., Urbana)
Illini Lights Out
Demonstrate your commitment to fighting climate change by volunteering to turn off the lights in campus buildings. This event saves energy (and money) by preventing lights from being left on throughout the weekend. Sign up >>>
5:30 p.m.   |   Lobby, Foreign Languages Building (707 S. Mathews Ave., Urbana)
Earth Week Trivia Night Bonzana
Are you romantic about Earth Week Environmental Trivia? Then join Students for Environmental Concerns (SECS) at trivia night! This annual intersection of environmental advocacy and competition edges out the first pitch of opening day as the true first sign of Spring's promises. Drama, excitement, the agony of defeat, and the sweet thrill of triumph! Do you have what it takes to be our champion? Register your team >>>
7-9 p.m.   |   Murphy's Pub (604 E. Green St., Champaign)
Saturday, April 27
---
History Along the Rail Trail
Want to learn about the rich cultural history that surrounds the Kickapoo Rail Trail area? Join the Champaign County Forest Preserve for an engaging 6.7-mile bicycle tour of the trail as we stop along the way to discuss local history. The tour will begin at the access point near the northern end of the Urbana Walmart's parking lot, and end near The Wheelhouse restaurant in St. Joseph. Bring your own bike; participants should make arrangements to return from St. Joseph. RSVP >>>
10 a.m.-noon   |   Kickapoo Rail Trail, Urbana Walmart Access Point (100 S High Cross Road, Urbana)

Earth Week Charity Hike
Joins Students for Environmental Concerns (SECS) at Turkey Run State Park for a hike in honor of Earth Week. Registration is $5 and proceeds go to Little Village Environmental Justice. Meet at the University YMCA ifor transportation to the state park. RSVP >>>
10 a.m.-4 p.m.   |   University YMCA (1001 S. Wright St., Champaign)
Plogging Fun Run/Walk
"Plogging" is the fun fitness trend that involves picking up litter while jogging. Volunteer to help clean up our campus community by plogging along one of our pre-selected paths through student residential areas that are dirtier than the rest. Sign up today >>>
Noon   |   Oak Street Library (809 S. Oak St., Champaign)
Monday, April 29
---
Energy and Sustainability Engineering (EaSE) Poster Session
Join the College of Engineering for the Energy and Sustainability Engineering (EaSE) open poster session at the Illini Union. View posters and speak with graduate student authors, who will each present a proposal to enhance clean energy supply or promote sustainable development.
3-5 p.m.   |   Illini Union Room B/C (1401 W. Green St, Urbana)
PREVIOUS EVENTS DURING EARTH MONTH 2019
Tuesday, April 2
---
Sustainability Living Learning Community Craft Night
Do you have a bunch of plastic bottles or other materials that you can't seem to throw away, but do not know what to do with? Come to the Craft Night and turn trash into treasure! We will be providing materials to work with, but if you want to bring your own that would be great! Learn more >>>
7-9 p.m.   |   Lincoln Avenue Residence Hall (1005 S. Lincoln Ave., Urbana)
Friday, April 5
---
Bike Maintenance — Fix-a-Flat
Promote Earth Month by riding your bike around campus. Come to this one-hour informational hands-on class to learn how to solve one of the most common bicycle repair problems! We'll cover the basics of removing a wheel and tire, replacing the tube, and reinstalling the wheel on the bicycle. All tools and parts will be provided. Learn more >>>
11 a.m.-noon   |   Campus Bike Center (608 E. Pennsylvania Ave., Urbana)
 
iSEE Workshop: "Nature-Society Interactions in Developing Communities"
This workshop will discuss the sustainable provision of safe water and sanitation in East Africa, with the goal of developing a cohesive interdisciplinary vision for sustainable infrastructure systems in resource-limited settings that manage the dynamic interactions between nature and society proactively. Organizers intend to bring together researchers from across campus to identify synergistic lines of research and build a cohort to pursue external funding. Register today >>>
Noon-4 p.m.   |   iSEE Collaboratory (Room 337), National Soybean Research Center (1101 W. Peabody Drive, Urbana)
Fresh Press Studio Tour & Papermaking Workshop
Join Fresh Press for a studio tour. Participants will be able pull paper sheets, look and buy different paper material while learning and understanding how we source, make and create regenerative paper. Learn more >>>
4-6 p.m.   |   Fresh Press Studio (2116 Griffith Drive, South Studio #3, Champaign)
Saturday, April 6
---
Mom's Weekend Flower Show
Come join the Horticulture Club for the 64th annual Mom's Weekend Flower Show! Get into the swing of spring with beautiful fresh cut bouquets, unique seeds, tropical and native plants, and tons of cool crafts and activities including terrariums, paint-a-pot, and mini herb gardens! Learn more >>>
10 a.m.-6 p.m.   |   Stock Pavilion (1402 W. Pennsylvania Ave., Urbana)


Fresh Press Studio Tour & Papermaking Workshop
Join Fresh Press for a studio tour. Participants will be able pull paper sheets, look and buy different paper material while learning and understanding how we source, make and create regenerative paper. Learn more >>>
11 a.m.-2 p.m.   |   Fresh Press Studio (2116 Griffith Drive, South Studio #3, Champaign)


Plarn with the Sustainability Living Learning Community
Do you have plastic bags piling up in your room and don't know what to do with them? Join the SLLC on April 6th to plarn! Plarning is the process of cutting plastic grocery bags into strips to make plastic yarn. This can then be made into mats, blankets, bags, and much more which can be given to homeless shelters, etc. Learn more >>>
3-5 p.m.   |   Lincoln Avenue Residence Hall Conference Room 60 (1005 S. Lincoln Ave., Urbana)
Sunday, April 7
---
Birds, Binoculars, and Beverages
Join the Urbana Park District for a special event. The Nature Center will be open early to visitors and birders. Don't have binoculars? They will be available for loan. After your walk, enjoy coffee, light snacks, and conversation while you watch birds from the Wildlife Observation Room, explore the exhibits in the Field Station, or shop in the Audubon Nature Shop. Learn more >>>
7:15-9:45 a.m.   |  Anita Purves Nature Center (1505 N. Broadway, Urbana)
 
Tuesday, April 9
---
Solving the World's Challenges: Biodiversity & Conservation
Come join us at the Funk ACES' second annual Solving the World's Challenges panel. Three experts from across campus will each discuss their research related to biodiversity and conservation and respond to questions from attendees. Their research ranges from identifying new species, to conserving biodiversity while enhancing the well-being of the world's poorest people, to rethinking cities with ecology and biodiversity in mind. Learn more >>>
3-4 p.m.   |   Funk ACES Library, Second Floor (1101 S. Goodwin Ave., Urbana) 
Thursday, April 11
---
Wildflower Pot Planting
Come to the LAR Garden Shed to plant wildflowers with the Sustainability Living Learning Community! Take home a potted plant for your dorm and learn about the importance of pollinators in our environment. The garden shed is across from Field of Greens in the LAR Basement. Learn more >>>
6-8 p.m.   |   Lincoln Avenue Residence Hall (1005 S. Lincoln Ave., Urbana)

 
Friday, April 12
---
Bike Maintenance — Fix-a-Flat
Promote Earth Month by riding your bike around campus. Come to this one-hour informational hands-on class to learn how to solve one of the most common bicycle repair problems! We'll cover the basics of removing a wheel and tire, replacing the tube, and reinstalling the wheel on the bicycle. All tools and parts will be provided. Learn more >>>
11 a.m.-noon  |   Campus Bike Center (608 E. Pennsylvania Ave., Urbana)
Illini Lights Out
Demonstrate your commitment to fighting climate change by volunteering to turn off the lights in campus buildings. This event saves energy (and money) by preventing lights from being left on throughout the weekend. Sign up today >>>
5:30 p.m.   |   Lobby, Foreign Languages Building (707 S. Mathews Ave., Urbana)
Saturday, April 13
---
Boneyard Creek Community Day
This annual event is a way to celebrate our lakes and streams by engaging volunteers to pitch in and clean up litter. It helps remind us all to be responsible citizens and put trash in its place. In 2018, volunteers cleaned more than 50 cubic yards of litter from more than 1,400 acres. Volunteers can help clean at six different sites in Champaign, Urbana and Savoy, with lunch served at noon at the Scott Park site (207 E. Springfield, Champaign). Attendees are encouraged to dress appropriately and in an orange shirt from a past year, if applicable. Register today >>>
9 a.m.-noon   |   Champaign Park District (706 Kenwood Road, Champaign)
 
Bike into Spring
The Champaign-Urbana Bike Month Planning Team and Urbana Park District are coming to your neighborhood this spring to help neighbors get ready for C-U Bike Month 2019! Bring your bike for basic help to get it ready to ride for Bike to Work Day (May 1) and Bike to School Day (May 8). We will provide a bike map and safety materials.
10:30 a.m.-noon   |   Lierman Neighborhood Community Garden (1603 E. Washington St., Urbana)
 
Bike Camping Extravaganza 
Join the 8th annual biking camping trip to Walnut Point State Park, 42 miles south of Urbana. Choose your adventure, by bike or auto (if that's your preference). Register today >>>
11 a.m. April 13-5 p.m. April 14
 
Discover the Night Sky 
Join The Champaign County Forest Preserve in celebrating the wondrous night sky at one of the darkest locations in the county! The International Dark Sky Association is a worldwide organization that works to protect our dark skies, drawing attention to the problems associated with light pollution and promoting simple solutions to mitigate it. Participate in hands-on activities, create and take home special crafts, speak with astronomy experts, and peer through a few telescopes! Learn More >>>
7:30-10 p.m.   |  Activity Center, Middle Fork Forest Preserve (3433 County Road 2700 E, Penfield)
Wednesday, April 17
---
Research Spotlight Series: The Illini Solar Car Team
Come and hear the research team discuss challenges and opportunities as they create a solar car. Learn more >>>
2-3 p.m.   |   Main Library, Room 220 (1408 W. Gregory Drive, Urbana) 
Herb Garden Lab
Love to cook? Love to grow plants? Grow you own kitchen herbs with Horticulture Club! Basil, rosemary, cilantro, dill, and more… take home your own flavorful windowsill garden! Learn more >>>
6-8 p.m.   |   Plant Biology Greenhouses (1201 S. Dorner Drive, Urbana)
Thursday, April 18
---
"PFAS remediation at MSU‐Fraunhofer: Electrochemical destruction in wastewater and landfill leachates using boron‐doped diamond electrodes"
Join the Illinois Sustainable Technology Center (ISTC, a Division of the Prairie Research Institute) for a presentation on the basic and applied research findings of using electrochemical oxidation (EO) with BDD electrodes to destroy per- and polyfluoroalkyl substances (PFAS) in wastewater and other complex samples such as landfill leachates and wastewaters. Various complimentary treatment technologies for PFAS remediation will also be addressed. Learn more >>>
Noon-1 p.m.   |   ISTC Conference Room (1 Hazelwood Drive, Champaign)

Bike Maintenance 101 Information Sessions
Promote Earth Month by riding your bike around campus. In this informative session, you will learn how to lube a chain, fix a flat tire in record time, and make other minor adjustments to your bicycle that will keep you riding smoothly and prolong your bike's life. Note: This is a demonstration class; please do not bring your bike. Learn more >>>
7-8 p.m.   |   Winter Garden, (ARC, 201 E. Peabody, Champaign)
Friday, April 19
---
Bike Maintenance — Fix-a-Flat
Promote Earth Month by riding your bike around campus. Come to this 1 hour informational hands-on class to learn how to solve one of the most common bicycle repair problems! We'll cover the basics of removing a wheel and tire, replacing the tube, and reinstalling the wheel on the bicycle. All tools and parts will be provided. Learn more >>>
11 a.m.-noon   |   Campus Bike Center (608 E. Pennsylvania Ave., Urbana)