It's not often that we have to think twice about the water that comes from our faucets.
For most of us, clean water is a guarantee that doesn't cause additional stress to our day-to-day lives. Yet our privilege doesn't extend to everyone. 844 million people around the world don't have access to clean water, while 1 million people killed by water-, sanitation-, and hygiene-related disease each year.
As an artist, Candace Hunter uses her work to generate discussion about topics she cares about. Her latest collection of work, Dust in their Veins, A Visual Response to the Global Water Crisis, illustrates the plight of women and children who are confined by water woes. A mixed-media collection of 24female torsos, her art represents women from different cultures and regions that suffer from lack of access to clean water around the globe.
We sat down with her on the opening night of her exhibition at the University YMCA to learn about what drew her to this topic.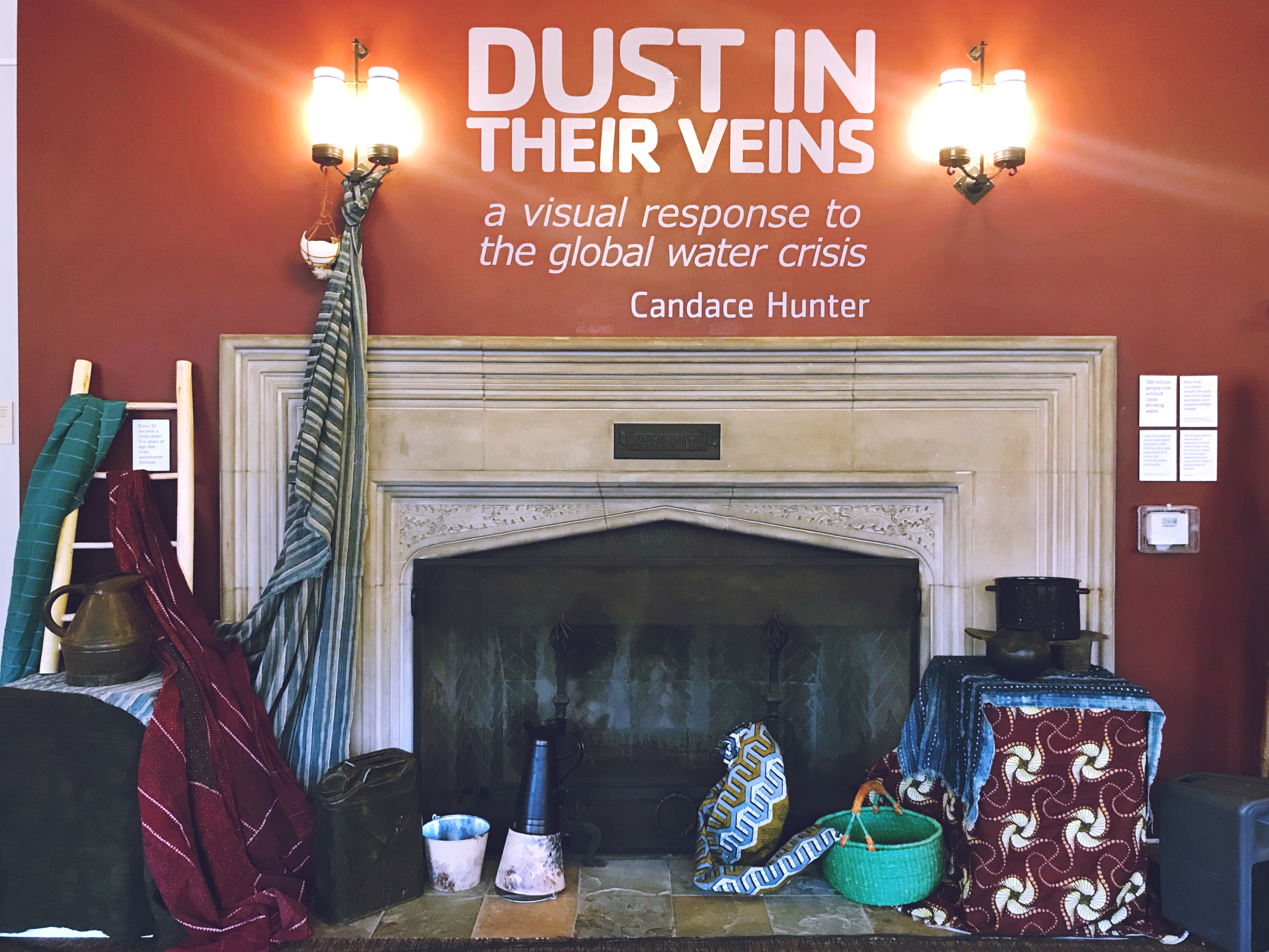 1. The series was inspired by a showcase listing at the University of Minnesota
"I'm a kid from the South Side of Chicago who works diligently on things I think matter. I'm constantly on the search for opportunities where I can showcase my work," Hunter said.
"In 2012 I saw a listing for a show at the University of Minnesota that was called 'Women and Water Rights, Rivers of Regeneration." I liked the name. But what in the world did it mean? I did not know. I knew nothing about water rights, and I knew even less about women and water rights."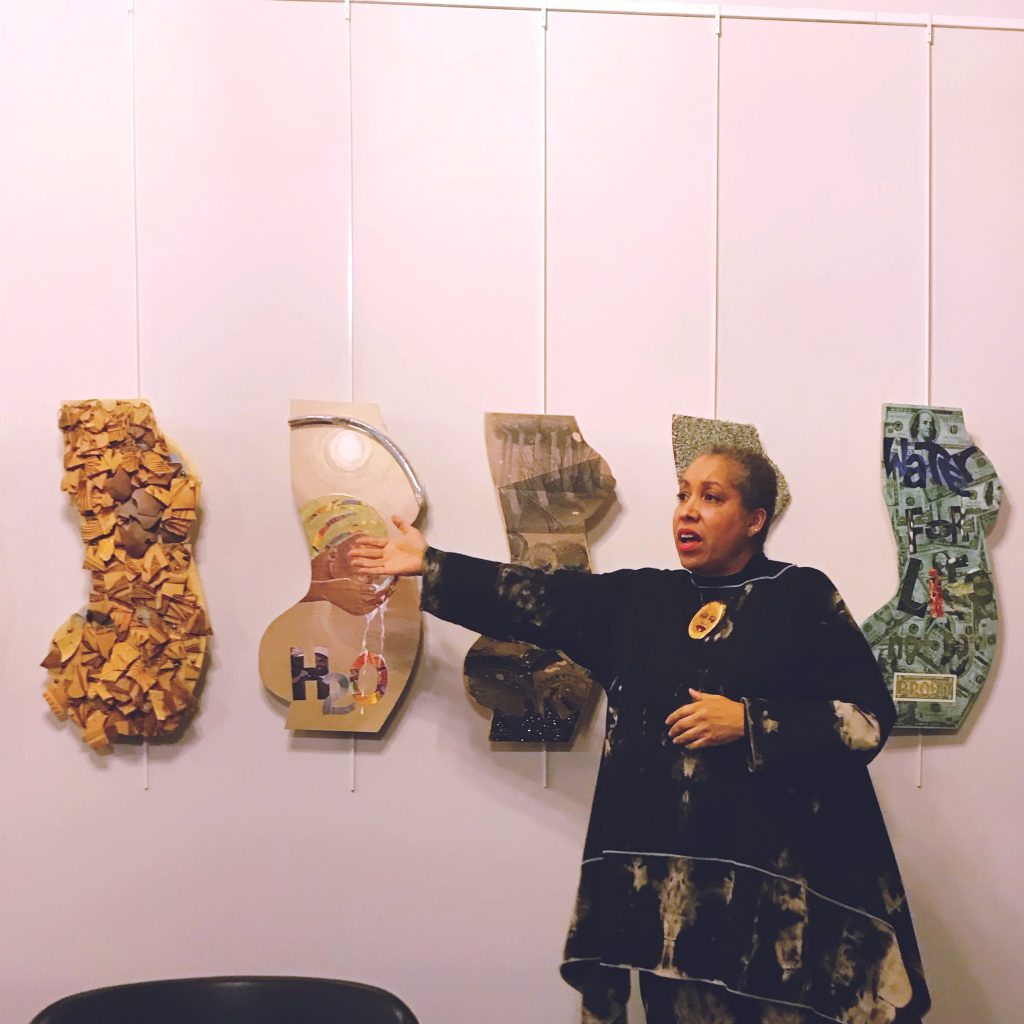 2. She tapped a vast well of research in preparation to create
"For this piece, I had to do a little something called research. I hadn't done that much work since I was in graduate school for anthropology!" she joked.
"I started looking, reading, poring over notes from the International Water Association Meetings that were held in Belgium and Buenos Aires, and as I was going over these, what I began to realize that the bulk of people who are most affected by the lack of clean water are overwhelmingly women and children whose voices were not being heard.
"Never at these meetings was there ever a woman who was suffering… the people affected weren't included.  It was always a conversation about 'us' and 'them.'
"This bothered me."

3. She talked to real woman to gain perspectives on this project
"My grandfather was a man of service. He was a legislator who authored a lot of civil rights laws in Indiana. I learned a sense of service and right and wrong from him. So when I see things that are intrinsically wrong, it makes me want to do something.
"I started having teas in my house, inviting small groups of women to talk about what these images of water crisis looked like.
"Time after time, when I would ask people what they thought about women and water, I was told the image of the women with the vessel on her head in brightly colored clothing tied tightly around hips, moving very slowly in the desert sun. Rhythmic, dance-like, beautiful.
"And all I could think about was if I'm carrying 44 pounds of water on my head for 10 miles a day, what is pretty? There's nothing pretty in that.
"So between the thought of I was not going to illustrate that particular image and the thought of these women weren't able to speak for themselves, I wanted to create something different.
"I wanted to create something that spoke for Her and walked for Her. And so Dust in their Veins was born from that."
 
4. She hopes her work will spark conversations and action
"I am a child of Lake Michigan, which means I'm among the water-wealthy. I would dare say that everyone in Illinois is among the water wealthy.
"Every single one of you can turn on a faucet every single day. You brush your teeth in the morning you make that coffee that you probably don't even drink the whole pot. You throw away that water. We let water run. We don't care because water is there for us. It's a right, but not really. We're just the lucky ones.
"The torsos [in this art show] are headless because She has no voice. They're legless because She cannot remove herself from her own situation."
"And so hopefully as this show moves around from place to place, there's a conversation that speaks for Her, and moves in other places where She will never have the ability to be."
 
5. She believes that those who understand you can critique you
"When I was in undergraduate school, I used a textbook called Janson's History of Art.There were no women in it. There was one black person in it.
"There were women discussed in the textbook, but only as 'women arts': things you did in the kitchen, needlepoint, quilting. Not to say that that's not art, but those things work women did with their hands was relegated so low on the totem pole that nothing was taken seriously. Lucy Lippard, feminist and art critic, was at the front of the wave to change that.
"Whenever I see a listing for a show, I always look to see the jurors. If they've never taken work by an African American artist like me, then I'm not going to give them my money to have my work looked at. As soon as I saw that Lucy Lippard was judging the show at the University of Minnesota, I was intrigued.
"I said, 'I need to have my work in front of Lucy Lippard before she's gone from this planet.' "
———
Hunter's work is on display in the Murphy Lounge at the University YMCA until May 6.
— Katie Watson, iSEE Communications Intern