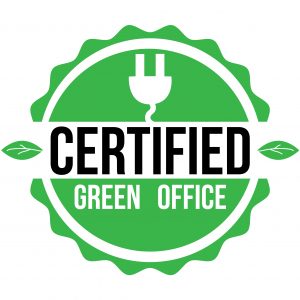 Enrollment is now open for the latest and greatest version of the Certified Green Office Program, an initiative by the Institute for Sustainability, Energy, and Environment (iSEE) to help Urbana-Champaign campus offices and labs implement sustainable practices in the workplace.
By updating their daily practices, groups ranging from small offices to entire departments can reduce their environmental footprint, help the campus save money, meet Illinois Climate Action Plan (iCAP) objectives and commitments, and respond to the overwhelming interest of staff, students, faculty, and the surrounding community in creating a more sustainable University.
In the 3.0 version of the Program, iSEE has expanded the list of elective green actions offices can take to reach bronze, silver, or gold certification. Program organizers also streamlined the enrollment and reporting process — it only takes five easy steps to become a Certified Green Office.
Offices are now required to re-certify with iSEE on an annual basis to be sure that good habits started are continued.
Want to begin greening your office? Visit the Certified Green Office Program's homepage at go.illinois.edu/greenoffice to view the steps for certification. Then, send an email to greenoffice@illinois.edu to let iSEE know you are ready to participate in the Program. An iSEE staff member will be in touch with you promptly to schedule an in-person meeting.
Since the first edition in 2014, 31 offices — comprising more than 1,200 employees — have done their bit to reduce our carbon dioxide emissions. Now, our goal is to engage at least half of campus full-time staff by FY20 to create a bigger impact. With your help, we can strengthen campus' position as a national leader in sustainability.
For the purposes of this program, any group — not just those labeled "office" — that occupies space in a campus building or is affiliated with the University is eligible to become a Certified Green Office. Some examples of those who may apply: administrative offices within departments; teams of researchers and graduate students; institutes; entire departments; or colleges.