AUG. 16, 2016 — The University of Illinois at Urbana-Champaign has sold certified carbon credits to BP Target Neutral (BPTN) as part of a new Carbon Credit and Purchasing Program through Boston-based nonprofit Second Nature. Proceeds from the sale are more than $700,000.
Carbon credits are a measure of carbon dioxide or equivalent greenhouse gases (GHG) kept out of the atmosphere. By selling its accumulated carbon credits, Illinois' good work to reduce its GHG emissions will fund additional emission reductions and energy conservation projects on the Urbana campus.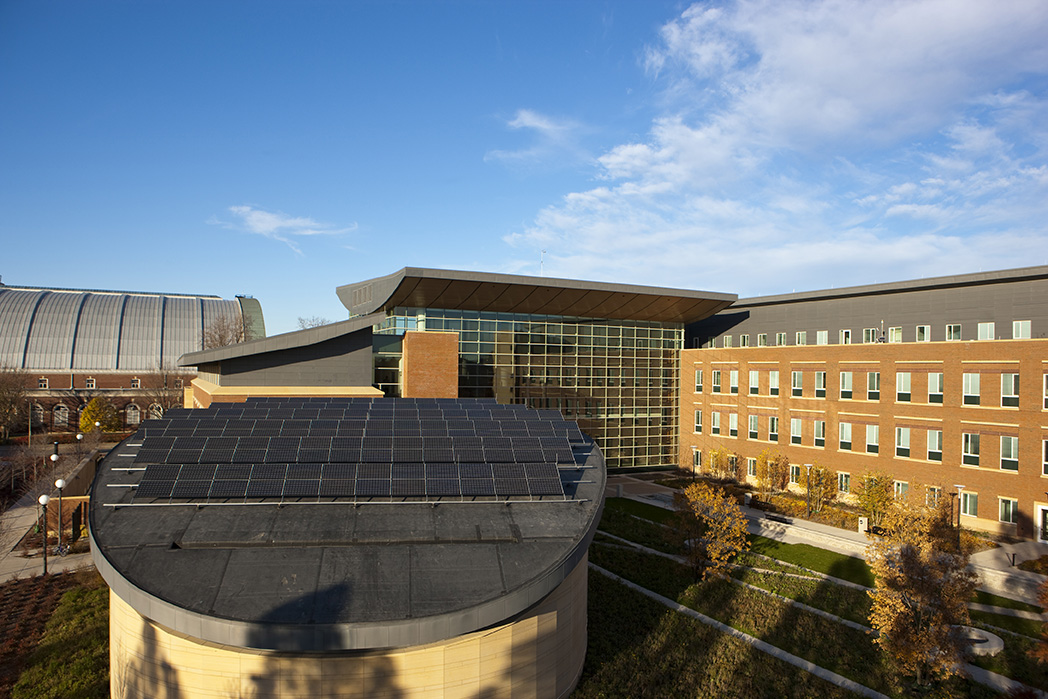 Facilities & Services (F&S) and the Institute for Sustainability, Energy, and Environment (iSEE) will work together to allocate funds toward future projects.
"We have taken this step to ensure that our campus can continue to fund the energy efficiency activities that help us push toward carbon neutrality by 2050 or sooner," said Professor Evan DeLucia, Director of iSEE. "We are glad that Second Nature has helped provide an innovative way for us to fund further work to reach the ultimate goals of the Illinois Climate Action Plan (iCAP)."
Successful, centrally-funded, energy conservation projects and initiatives on campus have helped reduce energy consumption at the university by more than 25% since 2008.
Kent Reifsteck, Utilities & Energy Services Director for F&S, said energy conservation work offers one of the best returns on investment available and is imperative to maintaining and developing utilities infrastructure to meet future demand.
"Significant energy reduction and the associated cost avoidance is a top priority for campus utilities and energy services," Reifsteck said. "Continuing these efforts will directly support the university's teaching and research and help to achieve strategic goals."
University of Illinois energy conservation accomplishments include:
Retrocommissioning (RCx) Teams: To date, the systems of more than 60 campus buildings have been upgraded, covering more than 8 million gross square feet, with an average energy reduction of 27%. More than $38 million in utility costs have been avoided since the start of the program in 2007.
Energy Performance Contracting (EPC): The $22 million Veterinary Medicine EPC resulted in a more than 33% annual reduction in energy consumption (dependent upon weather conditions) with annual estimated cost avoidance of $1 million. Large-scale work underway in five research-intensive College of Engineering facilities and will guarantee more than $41 million in cost avoidance over the next 20 years.
Energy Management Control Center: The control center opened in April 2013 and allowed the university to coordinate and maintain uniformity on the setup of Direct Digital Controls (DDC), better display and analyze data, enhance integrations of the various control systems, and quickly determine what service is needed. DDC systems are present in approximately two-thirds of campus buildings.
Lighting Retrofits: A campuswide project upgraded 142,000 fixtures with more efficient lighting systems, reducing buildings' electrical use by an average of 40% and providing $2M cost avoidance annually. More than 500 LED wayfinding signs were installed in support of the Chancellor's commitment to become the first major research university to incorporate LED technology as its major source of lighting.
Professor Ben McCall, iSEE's Associate Director for Campus Sustainability, said Illinois remains committed to being a leader in sustainability — and the sale is evidence of that commitment.
"By monetizing our emissions reductions, we have found a creative new funding source for campus sustainability projects," McCall said. "This reinvestment in our campus will drive new studies, new ideas, and new techniques that will help us reach our climate goals even sooner."
The 2015 iCAP has outlined ambitious objectives for 2020 and beyond, including reductions of 30% from its 2008 baseline in campus energy usage, campus energy emissions, water consumption, and agricultural and landscape emissions.
"We have specific goals for the next few years," McCall said, "but it all comes down to the biggest one, and that is to reduce net campus emissions to zero. Our campus leadership has re-committed itself to doing so, we have now found a source to fund some of the work, and we are grateful to F&S for their continued hard work to help make it happen."
Illinois' carbon credits for the period of July 2014 through December 2015 — verified by SCS Global Services — were sold to BPTN, a carbon management initiative involving both carbon reduction and offsetting services, which it provides to businesses and BP customers through a rigorous assessment process. BPTN bought credits from Illinois, Ball State University and Southern Oregon University, all Charter Signatories of the Second Nature Climate Commitment.
This is not the first time Illinois has sold carbon credits. The campus sold about 150,000 credits to Chevrolet's Bonneville Environmental Fund in 2014-15, and along with a campus match, banked more than $1.1 million. Of that amount, $750,000 was placed in the Revolving Loan Fund, a financing source for utility conservation projects on campus with a less than 10-year payback period. The rest of the original sale proceeds — totaling more than $300,000 — continue to be distributed for projects or programs aimed at campus carbon reductions.
The Institute for Sustainability, Energy, and Environment (iSEE) has a three-fold mission: funding and shepherding interdisciplinary research projects that have an immediate and lasting impact in solving global grand challenges related to sustainability, energy, and the environment; leading efforts to make the U of I campus a leading model of sustainability, energy efficiency, and environmental friendliness; and educating and preparing students to be leaders in these fields when they leave campus. sustainability.illinois.edu
Facilities & Services (F&S) provides all physical plant, operational, and essential services for sustaining an environment that fosters the research, teaching, and public engagement activities at Illinois. F&S supports the university's education, research, and outreach missions by improving the physical condition of the facilities and grounds through construction and building maintenance activities, providing utilities production and distribution, implementing energy conservation initiatives, and increasing customer satisfaction by delivering quality services in a responsive, reliable, and customer-focused manner. fs.illinois.edu
Second Nature works to proactively build a sustainable and positive global future through initiating bold commitments, scaling successful actions, and accelerating innovative solutions among leadership networks in higher education. The Climate Leadership Commitments, a signature program of Second Nature, is based on the premise that bold commitments to climate action and resilience by higher education leaders yield positive changes at their institutions, and beyond. secondnature.org
Media Contacts
Tony Mancuso, iSEE communications and public affairs:
217-300-3546, tmancuso@illinois.edu
Steve Breitwieser, F&S customer relations and communications:
217-300-2155, sbreit@illinois.edu
Gabriela Boscio, Second Nature communications and education:
617-722-0036 x 208, gboscio@secondnature.org