Bicycling, Advocacy at Illinois: A Marriage Made on Campus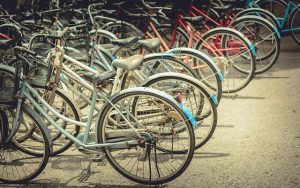 On a cool Tuesday evening in May 1973, two men sped down Urbana's California Avenue as fast as their bikes would carry them.
One was Mayor Hiram Paley; the other former Mayor Charles Zipprodt. At their backs pedaled an entourage of smiling locals. And in front of them, stretched across the intersection of California and Lincoln Avenues, at the University of Illinois' eastern edge, was a finish line.
This unusual municipal bike race took place to celebrate an equally unusual project: an experimental bike path that closed California Avenue to all nonresidential vehicular traffic from its intersection with campus on Lincoln to the edge of downtown Urbana on Race Street.
California Avenue remained closed for 30 days, its intersections blocked by low rubber barriers and flower planters, before concerns from neighbors and business pressured the city to reopen the street to through traffic.
It was a short-lived but cherished climax to three years of bicycle advocacy undertaken by community- and university-based environmental groups, in particular Housewives Involved in Pollution Solutions (HIPS) and Students for Environmental Concerns (SECS). And it remains a highlight in a long history of bikes on the University of Illinois' Urbana-Champaign campus.
Bicycles have always been a carrier for social aspirations. From its earliest days, cycling symbolized emancipation, for women and for workers. In the early 1970s, cycling took on an environmentalist message, too.
"We wanted to get more people bicycling to lower energy use, to impact air pollution and traffic and exercise," said Beedy Parker, an academic spouse and environmental advocate who served as HIPS coordinator for its Committee on Bikeways in 1973.
"Champaign-Urbana is an ideal bicycling town. It's flat, and the students already bicycled," Parker said. What it needed was better infrastructure. Her committee partnered with the cities of Urbana and Champaign to create a bike map based on preferred routes between the towns and the existing bike lanes that intersected the central campus — and to lobby the state government to provide funding for road markings and signs.
The interest in biking as an alternative transportation mode slowed, however, by the end of the '70s, and it wasn't until the late 2000s that a second wave of bicycle advocacy started to take shape.
At that point there was a lot of work to be done. Said Morgan Johnston, Associate Director of Facilities & Services (F&S) at the university: "We had no bike friendly business in town, no jurisdictions that were labeled bicycle friendly by the League of American Bicyclists," a national organization that sets standards on best practices to encourage better biking environments.
But the goodwill was there. Johnston described an upwelling of interest, from local advocacy groups, from the surrounding cities, and from the university.
"Change was coming from all directions," she said. "We needed it because of safety; we wanted it because of sustainability. We knew there was a desire from faculty, staff, students, and alumni."
Bikes for the Environment
(click to see larger image)
The 2005 Champaign County community visioning project "big. small.all" called for stronger support for bicycling, as did the 2007 university-commissioned Multi-Modal Transportation Study. Within a year, the campus had signed the American College and University Presidents' Climate Commitment (ACUPCC). Johnston, then a graduate student in Urban Planning, set about developing a campus bike plan based on the recommendation of the university study. Her 45-page plan included a new bike map, which supplemented existing bikeways with suggestions for their upgrade.
In 2010, the first Illinois Climate Action Plan (iCAP) included the goal of developing bike infrastructure as a way to reduce carbon emissions and generally promote sustainability efforts on campus.
Since Johnston came on board at F&S in 2009, the university bike plan has expanded to 251 pages, and the policies and goals put forward have begun to bear fruit.
A comprehensive bike map called the "Share the Road" Champaign-Urbana-Savoy Bicycle Guide and Map, for instance, was developed in collaboration with several state and local bicycle advocacy groups. Under the sponsorship of the Dean of Students Office and the nonprofit Champaign County Bikes, it is distributed every fall to incoming freshman.
University departments and residences — from Facilities & Services to Lincoln Avenue Residence Hall — have built bike fleets and bike sharing programs to encourage students and employees to cycle around campus.
Student groups have prioritized cycling, too. The Student Sustainability Committee (SSC) has distributed nearly $500,000 in funding to bike projects, from updated bike parking campuswide to the Campus Bike Center, an educational and DIY repair shop opened in 2010 under co-sponsorship by its parent organization, the Bike Project of Urbana-Champaign, and the university.
These are just a few of the many ongoing bike-themed groups, projects, and activities. As a result, the University of Illinois now holds bronze-level distinction as a bicycle-friendly city by the League of American Cyclists, and many community members have committed to commuting by bike. According to an a 2011 university district traffic circulation survey, 12 percent of students, 6 percent of staff, 18 percent of faculty listed cycling as their primary mode of transportation. To put this in perspective, consider the fact that city with the highest percentage of bike commuters in the Midwest is Bloomington, Ind., at 5.5 percent. In terms of smaller Midwest towns, Champaign and Urbana ranked in the top 15, with 2.7 percent and 5.8 percent of total commuters, respectively.
The reason for the success? For Johnston it's because "bikes are the most accessible, most engaging way to get introduced to sustainability. And sustainability isn't just about reducing emissions. It's about maintaining what you have. It's about community. It's about equity. Bikes have all those things."
— Kate McQueen, iSEE Communications Graduate Intern
About this article …
In honor of the University of Illinois sesquicentennial, iSEE is doing a series of pieces on the rich history of ecological and environmental research and breakthroughs on campus. Our articles, photos, and videos also will touch on student, faculty, and staff activism and leadership on behalf of Mother Earth in the past 150 years — which have ramped up considerably in the past few decades! And this series will explore the future of sustainability, clean energy, and environmental efforts at Illinois and abroad.
Full list of iSEE articles >>>
Check out the U of I sesquicentennial website at 150.illinois.edu >>>