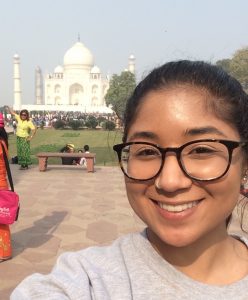 Adriana Noboa is a junior majoring in Technical Systems Management and a member of iSEE's Agriculture, Land Use, Food, and Sequestration SWATeam.
To Adriana, being a SWATeam member means being apart of the active change on campus — using her voice to promote positive change for the environment. Campus sustainability, she believes, could be an integral part of securing our planet's future.
"With more people pursuing higher education than ever before, this microcosm of the world serves to teach a growing number of us how to live mindfully," she said. "In order for future generations to follow in our footsteps, the road must be paved now. And no matter how small the step, once everyone is following, the results can be colossal."
For the time being, she is working diligently to help achieve her team's goals, which include assessing and reducing greenhouse gas (GHG) emissions from campus, as well as designing and maintaining sustainable landscapes here at Illinois.
"Before my time here is done, I hope to be able to devise at least one initiative to reduce food waste in the dining halls, as well as a plan for the quantification of GHGs (coming from the University's farms, landscapes and food buying)," she said.
As far as what others can do to help promote sustainability on campus, Adriana believes in the power of individual efforts.
"My wish is simple, specific, and it's the same for both faculty and students: Make conscious choices regarding your plates!" she said. "Don't cook (or pile on) more than you are able to eat, and participate in a meatless week once in awhile.
"It can be difficult, sometimes downright impossible, to get masses of people on board with one thing, such as minimizing food waste when eating in the dining halls. But once it's successfully done, the influence is enormous."
Around campus, you'll find the New Jersey native working as a Research Assistant in Turner Hall or studying at Caffe Paradiso in Urbana. In her free time, she enjoys hiking, reading, biking, and writing.
Return to Zero Waste SWATeam page