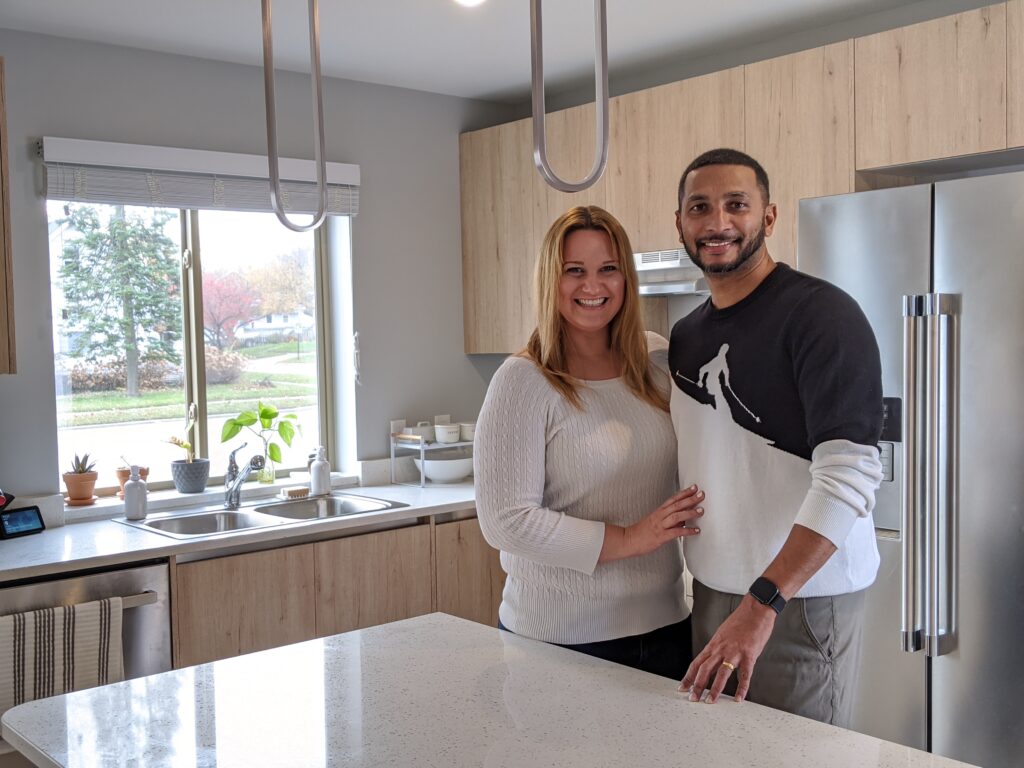 UPDATE: Nancy and Sumanth Viswanathan's house hunt took them to a half-dozen states in search of the perfect "tiny home" before culminating in Champaign. These travel buffs from Madison, Wis., fell in love with ADAPTHAUS, a solar-powered, adaptive home built by University of Illinois students that won fourth place in the recent Department of Energy Solar Decathlon competition.
The energy-saving features, smart technology, and light-filled, minimalist design were just what the couple had in mind. After reading about ADAPTHAUS online, they purchased the home through Habitat for Humanity of Champaign County and moved in on Nov. 29, just in time for the holiday season.
"It was important that it went to the right people, people who appreciate it as much as we do," said Nancy Viswanathan, an author and military veteran. "It's perfect." 
Take a house tour with the Viswanathans by watching our video, or check out the gallery below.
---
Original story from June 2021: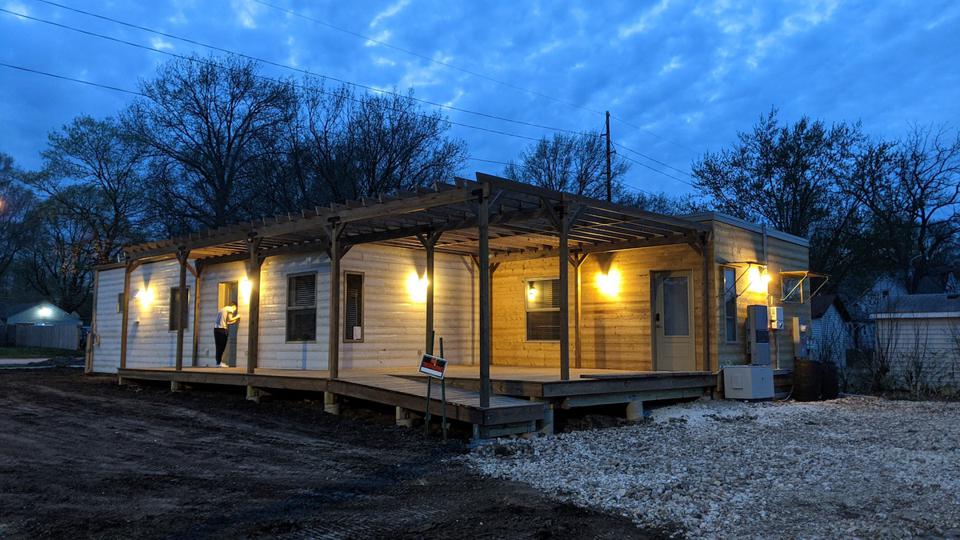 It's no secret that sustainable housing can feel unattainable to many, especially for first-time homebuyers. With its latest project, ADAPTHAUS — a modular and affordable net-zero residence — the Illinois Solar Decathlon (ISD) team seeks to remedy that problem right here in Champaign-Urbana. At the intersection of Walnut and Bradley in north Champaign sits the striking wood-paneled compact house, solar panels lining the roof. And it's move-in ready!
Organized by the U.S. Department of Energy, the Solar Decathlon is a collegiate competition that challenges thousands of students worldwide to design and build high-performance, low-carbon buildings that mitigate climate change and improve quality of life through greater affordability, resilience, and energy efficiency. The 2021 U.S. Solar Decathlon Build Challenge began in 2018 and extended into Spring 2021 due to COVID-19 delays.
The ISD team, composed of more than 50 University of Illinois students from a variety of backgrounds, envisioned ADAPTHAUS as a house of the future that grows with its inhabitants while also being an affordable entry point into the housing market. The 1,747-square-foot residence features two beds, one bath, and a variety of adaptable rooms and flexible furniture. For example, the couch in the front entry living space unfolds into a bed, and a wall-mounted mirror in the office space can be converted into a table. With ADAPTHAUS, gone are the traditional terminologies of "living room," "bedroom," and "study." A room that serves as an office during the week may be converted to an Airbnb over the weekend, for instance. The house offers residents flexible modules that can be used to expand upon and personalize the house to suit their changing needs, both in space and time. 
"If a family moves in and they decide to expand their family, how can we accommodate their needs without them having to move out?" said Halie Collins, Co-President of Illinois Solar Decathlon. "You can add modules, and it doesn't affect the HVAC system, the water system, or the structural framing of the home."
In addition to its modularity, ADAPTHAUS also features more "traditional" sustainable elements. The photovoltaic system incorporates two highly efficient solar arrays along with integrated storage. The arrays capture energy during the day to charge the battery for energy on demand. Because ADAPTHAUS is a net-positive energy home, capturing more energy than it will typically use, excess energy can be sold back to the grid.
The team selected lighting fixtures and controls to minimize electricity consumption and make use of available daylight. Dimmable LEDs are distributed around the interior and exterior of the house, and motion sensors automatically turn lights on and off. Energy Star-certified and ADA-compliant appliances further improve the house's efficiency and accessibility.
Over the course of an average year, about 7573 kWh will be consumed, which is provided by the photovoltaic system, equivalent to $879 in savings. An extra 1993kWh is captured and can be sold back to the grid, equal to $232 annual earnings.
Water conservation is also addressed, as the house was designed to minimize water usage and reduce grey and black water sent back into the city sanitary system. All the plumbing and fixtures that use water are consolidated in one corner of the home, which reduces the length of pipe used and eliminates the need for a hot water circulation pump. ADAPTHAUS' low-flow fixtures and water-efficient appliances result in approximately 29% less total indoor water consumption compared to the EPA baseline.
ISD decided to donate ADAPTHAUS to Habitat for Humanity, so that the house would end up in the hands of someone who needs it and will take care of it, making the build process even more fulfilling for the team.
"This is our fifth time building a house, and the first time a family will be living in the house after the competition," said Mayur Mistry, ISD Project Manager. "This makes me so proud."
ADAPTHAUS won fourth place in the 2021 U.S. Solar Decathlon Build Challenge, and it's safe to expect many more high placements from ISD in the coming years.
"We are very community-focused and driven for sustainability," said Mistry. "As an organization, we'll be participating in the next build challenge, and if more community members and people who are passionate about sustainability want to get involved in this project, we'll be happy to collaborate with them, and make a greater impact in our community."
ISD's ADAPTHAUS was supported by funding from an iSEE-facilitated grant from the Illinois Clean Energy Community Foundation (ICECF), the U.S. Department of Energy, the Student Sustainability Committee (SSC), the University of Illinois Office of the Provost, and various industrial sponsors.
— Article by April Wendling, iSEE Communications Associate
ADAPTHAUS exterior photo credit: Mayur Mistry
All other photo credits: April Wendling