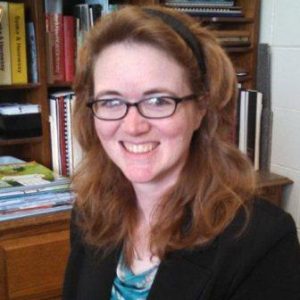 Morgan B. White is an Associate Director of Facilities & Services (F&S) and the Director of Sustainability at F&S.
Although she has been with the University since 1994, she hasn't always been assigned sustainability responsibilities. In 2008, she took on the role of Transportation Demand Management (TDM) Coordinator, an inherently sustainability-related effort, reducing single-occupancy vehicles on campus. A year later she got her first taste of overall campus sustainability efforts when she was asked to contribute to conversations about what transportation goals should be included in the 2010 Illinois Climate Action Plan (iCAP). After that document was signed, Morgan began implementing the F&S-related campus sustainability solutions outlined therein.
Among the solutions she implemented, Morgan is most proud of the Campus Bike Center. Beginning as a collaboration between the University of Illinois and The Bike Project of Urbana-Champaign to increase ridership, the Campus Bike Center is now a multifunctional educational resource for those who want to learn about the bicycling world in Champaign-Urbana and how to perform basic bike maintenance.
Today, Morgan serves as the primary liaison between iSEE and F&S. She finds the process of creating change the most interesting part of her daily duties. People know that they should be doing something about sustainability, she explains, but many don't know where to start. Some people think they are doing enough but aren't, and others are hesitant to try because they perceive many roadblocks. Morgan is fascinated by the conversations that bring people together to balance their viewpoints and form a workable solution.
"The community spirit that builds around a solution is exciting to me," she says.
Morgan is as Illini as they come. She was born and raised in Urbana and attended University Laboratory High School on campus. She holds a B.S. degree in Civil and Environmental Engineering and an M.S. in Urban Planning, both from Illinois. One of her parents is a retired U of I history professor. Her first job was with the University, and she has stayed ever since. Morgan now lives in Urbana with her daughter — who is crazy about bicycles just like her mom.