The University of Illinois at Urbana-Champaign has a reputation as a green leader, including its most recent recognition as a STARS Gold institution. But here are a few of the lesser-known sites and programs on campus that have a major impact:
The Solar Decathlon is a bi-annual competition that challenges 20 universities from around the world to design and build solar-powered homes to complete in 10 scoring categories. The Illinois team of faculty and students has submitted four designs to the competition so far, beginning in 2007. When competition is done, however, there is still a fully functioning house left over. Two of the Solar Decathlon houses have found home on campus as teaching tools and meeting spaces.
The Gable Home (2009 entry) can be viewed near the I Hotel and Conference Center on First Street in Champaign. The Re_Home (2011 entry) is at 3603 S. Race St., Urbana. Both houses can run completely free of the electricity grid, producing all their own energy with solar panels on the roofs. Watch a video about the Re_Home's many energy-saving features.
University units may reserve either space for $50/day, and registered student organizations can get it for $25/day (or per event). Email solardecathlon@illinois.edu to check for availability.
Read more about The Solar Decathlon and its houses at http://solardecathlon.illinois.edu/
Downpours are no trouble for the parking lot on the corner of Fifth and Chalmers streets. While the surface looks like any other asphalt parking lot, it is actually an absorbent asphalt material that allows water to go straight through it instead of just run over top of it. Here's a video of how it works:
Why is this sustainable? When rainwater washes across hard surfaces, it picks up debris and pollutants and carries them into the drain, which often leads to a natural creek or stream. In the U of I's case, campus stormwater drains to the Boneyard Creek. As pollutants build up in our waterways, they cause all sorts of problems. A porous surface that lets water go through it also takes the pollutants down into the soil, where they are trapped or break down naturally.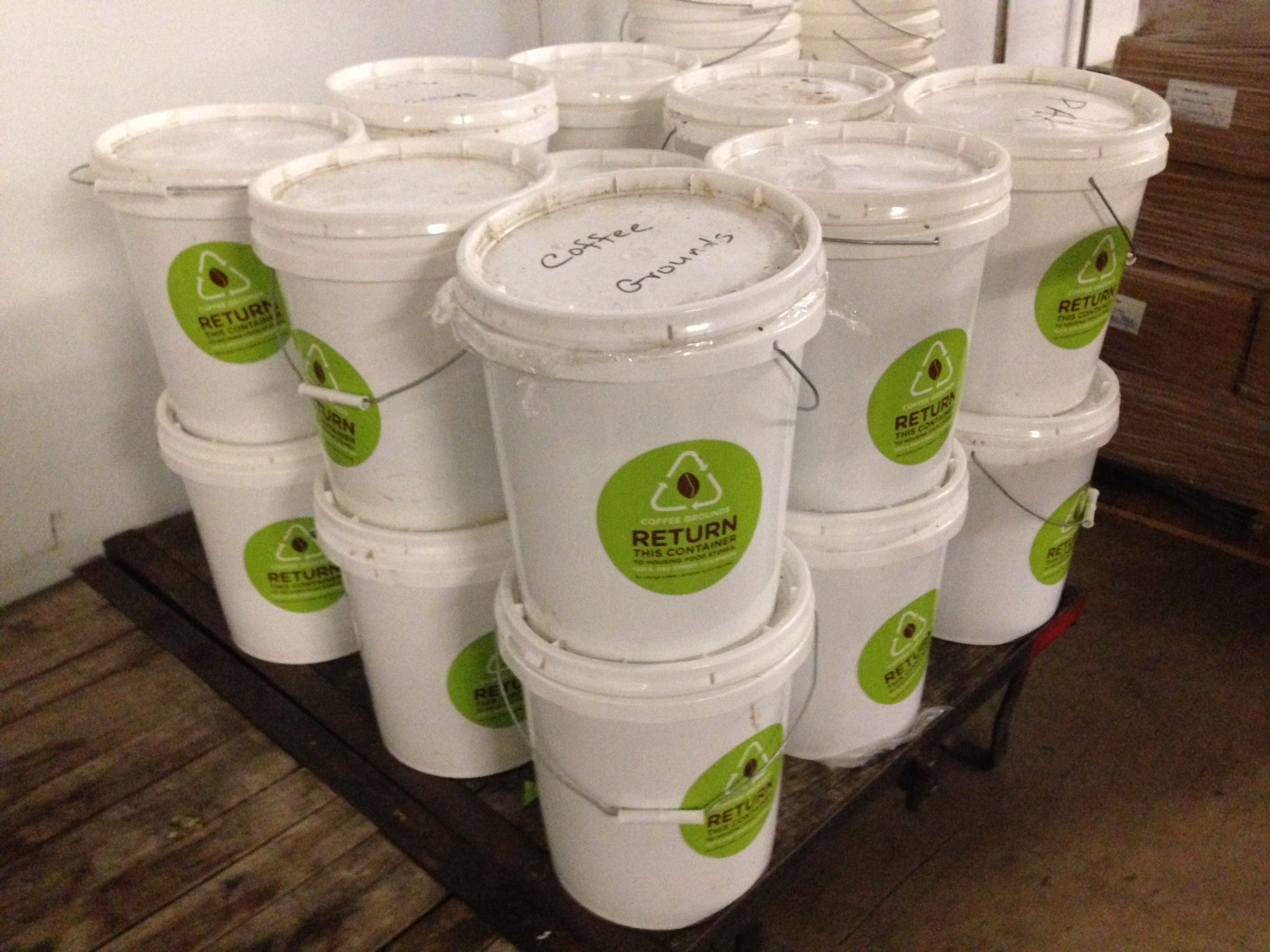 The Caffinator at the Ikenberry Commons serves one of the most sustainable cups of coffee on campus. The coffee is brewed in a Leadership in Energy & Environmental Design (LEED) Silver-certified building; the cup your coffee comes in is recyclable; and the grounds from your brew are recycled by University Dining Services. No waste!
Thanks to a grant from the Student Sustainability Committee, all coffee grounds from all dining halls and a la carte locations are collected and taken to Housing Food Stores. Most of these grounds are given to the Student Sustainable Farm for composting and adding to fields as fertilizer, but anyone from the community may pick some up for free to use in their own gardens. Email Mike Olinger at molinger@illinois.edu to request an order of used coffee grounds (available in 5-pound containers). Grounds may be picked up between 1:30 and 3 p.m. on Tuesdays and Thursdays from Housing Food Stores, 1321 S. Oak St., Champaign. The grounds are free, but a $5 charge will be assessed if the container is not returned.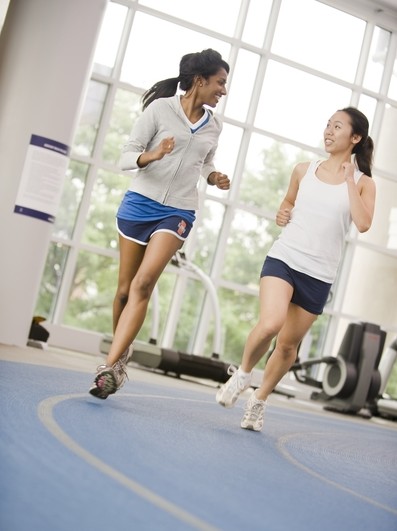 If you've ever visited the Activities and Recreation Center (ARC) before 4 p.m., you might have noticed that some of the lights are not turned on. This is a purposeful strategy by Campus Recreation to reduce carbon emissions during daylight hours, when the ARC's skylights and large windows provide lots of natural light. From 6:30 a.m. to 4 p.m., main area lights are off and patrons are asked to share gym space, rather than light extra courts.
Even when the lights are on, the recreation team has taken step to save energy. The racquetball courts and many offices in the building are on occupancy sensors to turn off when no one's around. All the lights in the building have been changed from inefficient and hot incandescent bulbs to fluorescent, metal halide or mercury vapor to use less energy. You can read more here about Campus Rec's green initiatives, which earned them top honors in iSEE's 2014-15 Certified Green Office Program.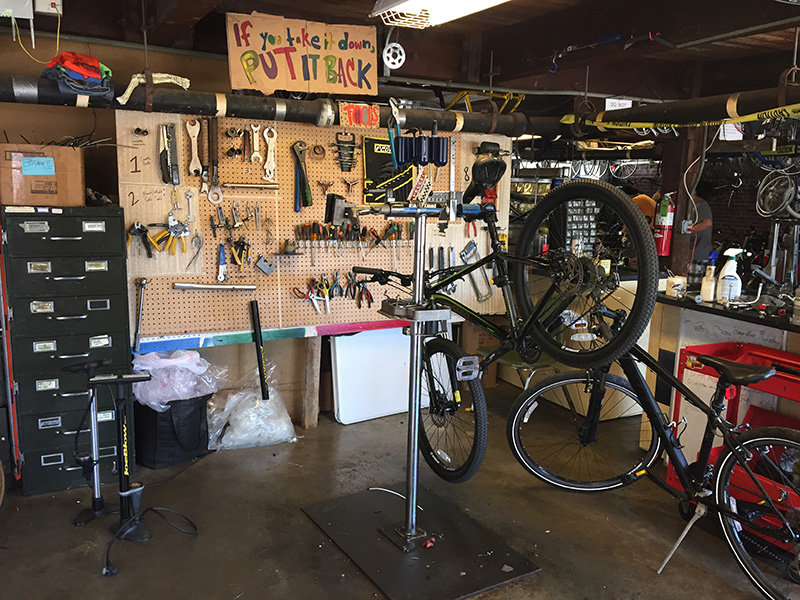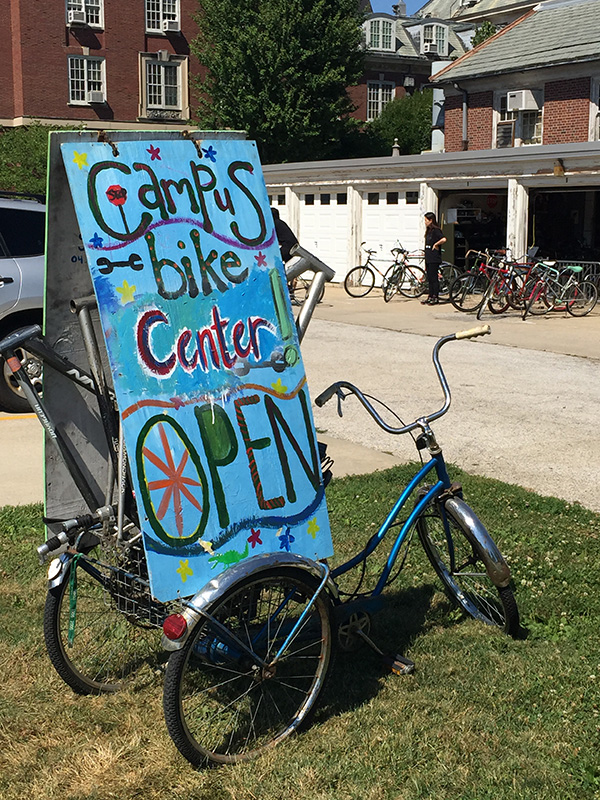 Tucked away behind the Natural Resources Building is a haven for all cycling enthusiasts. The Campus Bike Center is your one-stop shop for a carbon-free transportation lifestyle.
Open weekdays, the Center offers tools, parts, and advice for repairing your bike. Don't throw ditch your bike because the chain is rusted; visit the Center and get a new one! The Campus Bike Center also maintains the free-to-use bike tune up stations located around campus. Most importantly, the Center is a hands-on, educational space meant to provide knowledge and experience about fixing bicycles, not a "drop it off for repair" bike shop. (Although they do sometimes have refurbished bikes for sale!)
The Campus Bike Center is at 608 E. Pennsylvania Ave., Champaign — on Pennsylvania between Sixth Street and Goodwin Avenue.
Find the Center's hours of operation and more about their services at http://fs.illinois.edu/services/more-services/tdm/biking/campus-bike-center.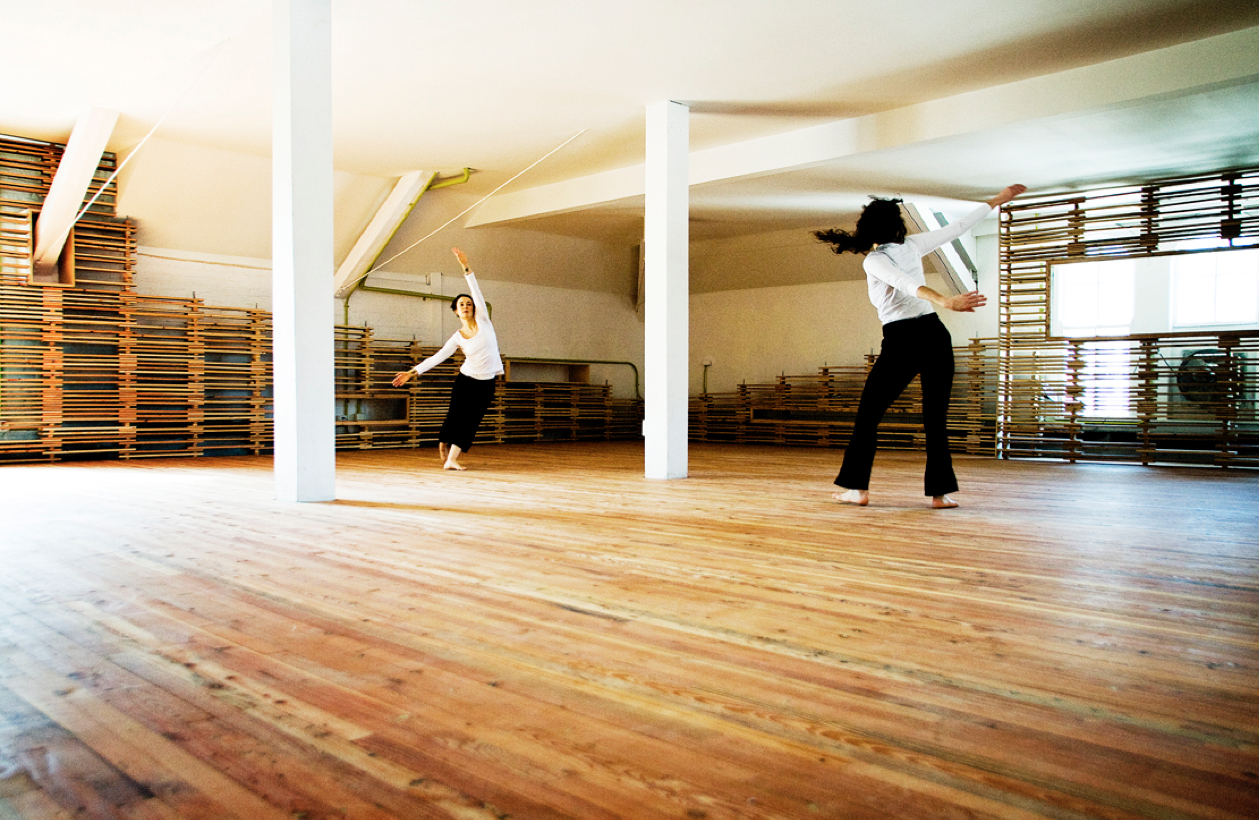 The beautiful wooden dance floor at the Graduate Dance Center in the Art East Annex Studio 2 (1301 S. Goodwin Ave., Urbana) is made of flooring reclaimed from an old basketball court that was replaced at the Activities and Recreation Center (ARC) in 2010.
Even the Center's décor is reclaimed. Wood from an old barn donated by Illinois alumni creates the base for desk space and lounge furniture. A curtain made from small tiles of the baskball flooring and reclaimed piano wire hangs in the windows to create dappled light.
The renovation project was a collaboration between Illinois Dance and Architecture students, who "formed teams to design something that would give a creative sense to the space without imposing on the space," said Jan Erkert, Head of the Dance Department, in a video about the project.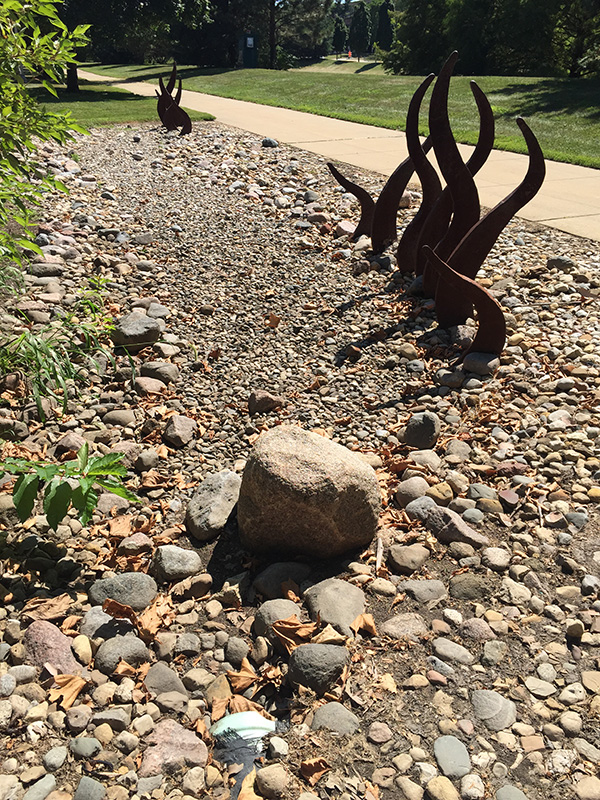 Like the porous asphalt, rain gardens also stop rainwater from going down the drain by infiltrating it into the soil.
The Red Oak rain garden sits between McKinley Health Center and Allen Residence Hall. Find out how this cool landscaping feature came to be in the Green Observer Magazine's interview with Natural Resources Professor Anton Endress at http://greenobservermagazine.com/phpsystem/outwithphp.php?q=555e85d739e7c644c1.
Want to explore more sustainable sites and projects at Illinois? Visit the
Illinois Climate Action Plan (iCAP) Portal
for a complete listing of actions the U of I has taken, is taking, and plans to take to become a more sustainable campus. The iCAP Portal features interactive maps, project histories, and photos.
— Olivia Harris, iSEE Communications Assistant