The Energy Farm at Illinois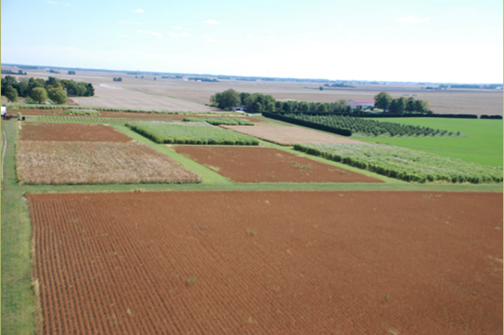 In their search for alternative energy resources, researchers at the University of Illinois have access to a gigantic "living laboratory" — the 320-acre Energy Farm on the Urbana-Champaign campus' South Farms.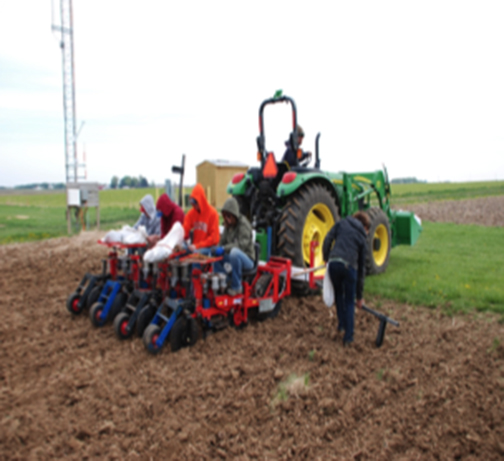 Under the leadership and management of the Department of Crop Sciences, the Energy Farm offers the space, resources, and expertise necessary for field research and production needs for those working on biofuel sources. The extensive infrastructure at the research plots includes power, data networks (wired and wireless), and irrigation. On-site staffers match and coordinate resources, oversee safety and in-service training for researchers, manage plots and production areas, and maintain a core data set — including timing, yields, weather, and more.
Activities on the Farm include layout planning and establishment of research and production plots; planting and harvest operations for biomass crop evaluation; pesticide selection, application, and evaluation; equipment design, fabrication, customization, and evaluation; collaboration/evaluation with external equipment manufacturers; assistance with off-site research activities for various programs; and outreach to individuals, classes, tour groups, and conferences.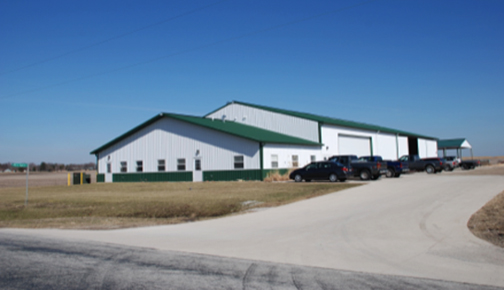 In addition, the site features:
a 12,000-square-foot research facility;
field equipment for all aspects from planting through harvest;
a fully equipped shop for equipment fabrication and maintenance;
a tissue processing lab for weighing, drying, and grinding;
sample archive storage areas;
biomass storage research;
a 198 kW biomass boiler (see details below);
a tall growth chamber facility; and
greenhouse facilities
Field to Flame: Biomass Heating at the Energy Farm
Starting March 2017, homegrown perennial grasses will replace propane as the primary heat source for the Farm's main research greenhouse. A state-of the-art Heizomat biomass boiler produced in Germany was installed in December 2016, and turns the products grown in the greenhouse and surrounding acres into hot water distributed across the research complex as the a heating source.
On average, the main greenhouse at the Farm consumes roughly 8,000 gallons of propane per heating season. Switching to biomass grown on the building's doorstep enables the Farm to reduce its annual carbon release by approximately 60 tons.
The Energy Farm was originally launched with the support of the Energy Biosciences Institute (EBI) and a major corporate partnership grant from BP. EBI research into energy crops and alternative fuel sources is ongoing at the Farm.
News from the Energy Farm
Installation work continues on the new biomass boiler at the Illinois Energy Farm, and the hope is that it will be operational early this spring semester.