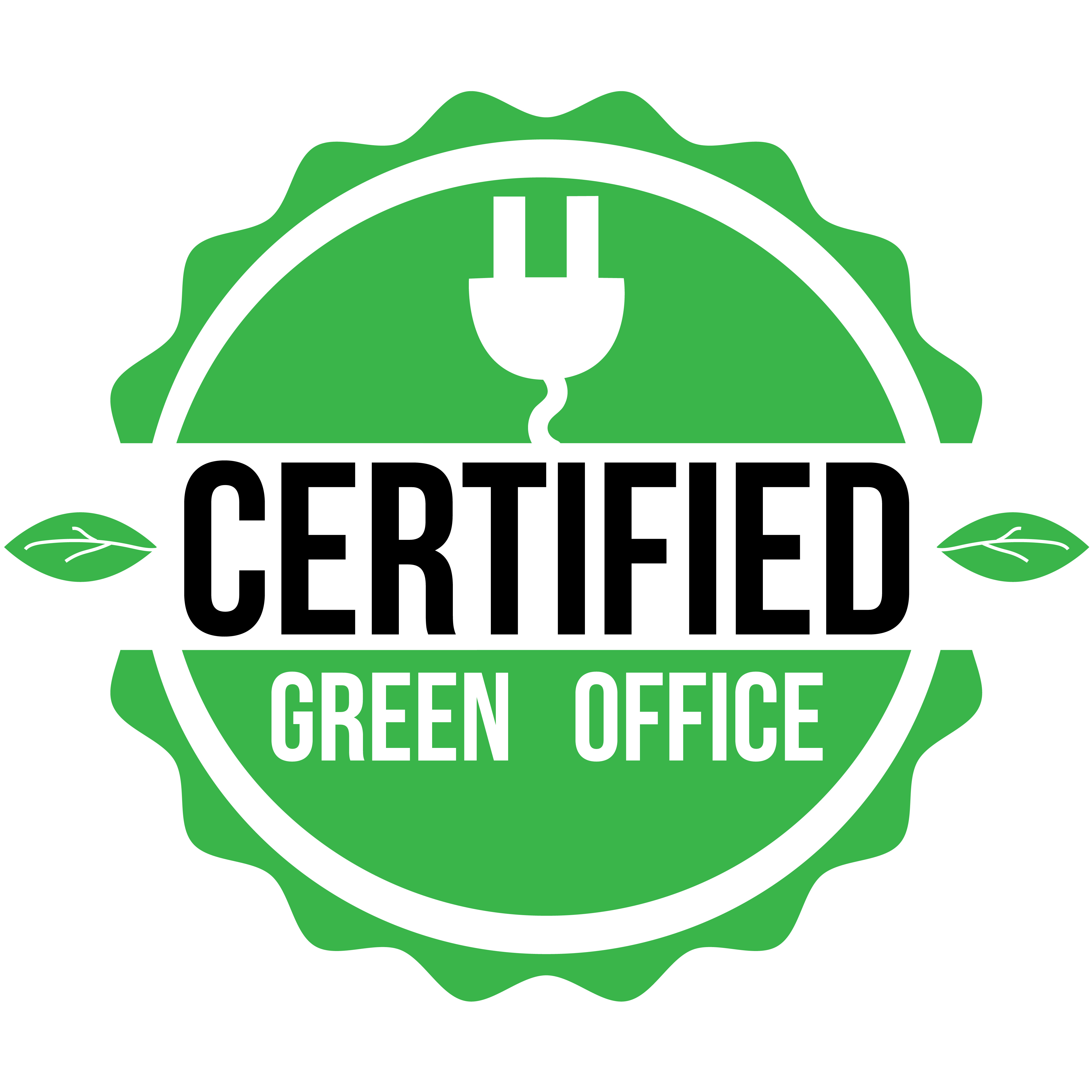 iSEE's Certified
Green Office Program
You have the power to reduce the environmental impact of the University of Illinois at Urbana-Champaign.
The Institute for Sustainability, Energy, and Environment (iSEE) is proud to present the latest edition of the Certified Green Office Program, its initiative to engage the University community in a campuswide commitment to sustainability.
We invite you and your office to make a pledge to reduce your use of resources and improve overall sustainability in the day-to-day practices of your office. Small actions make a big difference when many take those small actions. The Illinois Climate Action Plan outlines campus' plans to achieve carbon neutrality by 2050, and we believe everyone can play a part in achieving that goal through their day to day actions.
So far, more than 30 offices have participated in the program, in which iSEE connected with more than 1,200 employees who contributed their part to reduce our carbon dioxide emissions. Now, our goal is to engage at least half of campus full-time staff by FY20 to create a bigger impact. With your help, we can reduce the environmental impacts of this campus and strengthen its position as a national leader in sustainability.
1. Select a Sustainability Ambassador
This person will be the main point of contact between iSEE and your office, and will take charge of implementation.
2. Email iSEE
Send an email to greenoffice@illinois.edu to let us know you are ready to participate in the Program. An iSEE staff member will be in touch with you promptly to schedule an in-person meeting.
3. Start Doing!
Start implementing all Required Actions and as many of the Elective Actions as you like. Take as much time as you need for this, and remember that iSEE is here to help if you run into challenges.
4. Implement the Program
Throughout the year, attend Certified Green Office Program events as they occur, and keep an eye out for monthly newsletters offering tips for how you can make your office more sustainable. Once you're confident that you've achieved as many actions as you'd like to take, reach out to the Green Office team and we'll help finalize your certification.
5. Ambassador Survey
After speaking to iSEE, have the Sustainability Ambassador fill out the Ambassador Survey. This is used as the final "report" of your actions.
... CELEBRATE!
Congratulations! Your office is now certified for one year. iSEE staff will send you an official certificate to be displayed at your office's main desk, lounge, or central bulletin board.
<<< Becoming a Certified Green Office takes just five easy steps!
To be considered a Certified Green Office, the office will have to complete five Basic Actions and complete enough elective actions to meet one of these categories:
Bronze — 5 elective actions
Silver —  10 elective actions
Gold — 15 elective actions
What does it mean to be a Certified Green Office?

For the purposes of this program, any group — not just those labeled "office" — that occupies space in a campus building or is affiliated with the University is eligible to become a Certified Green Office. Some examples of those who may apply: administrative offices within departments; teams of researchers and graduate students; institutes; entire departments; or colleges.
The Certified Green Office Program is designed to help offices implement sustainable practices in their workplaces. By updating their daily operations, offices can reduce their environmental footprint, help the campus save money, meet Illinois Climate Action Plan objectives and commitments, and respond to the overwhelming interest of students, faculty, staff, and the surrounding community in sustainability. After completing actions suggested by the program, offices are assessed and receive one of three certification levels (Bronze, Silver or Gold). Certified offices proudly display their certification and are recognized in campus publications.
Forms & Resources
Forms
The Enrollment Form should be filled out by your ambassador once you decide to begin the certification process.
Helpful Links
Three campus offices have joined the ranks of Certified Green Offices on campus. After iSEE's spring 2017 relaunch of its Certified Green Office Program, all three have demonstrated sustainability leadership to earn Gold Certification. Capital Programs at Facilities...
read more
2015-17 Certified Green Offices
GOLD-rated Offices
Facilities & Services (F&S) Customer Relations and Communications — August 2017
School for Integrative Biology — July 2017
Institute for Sustainability, Energy, and Environment — July 2017
F&S Engineering and Construction Services — June 2017
F&S Capital Programs — May 2017
University Library Collection Management Services — May 2017
The Cline Center for Democracy — October 2016 (Sustainability Ambassador: Jessie Baugher)
The Mitchell Lab — August 2016 (Sustainability Ambassador: Patricia Blair)
SILVER-rated Offices
You could be the first silver awardee!
BRONZE-rated Offices
The Department of Communication — August 2016 (Sustainability Ambassador: Marian Huhman)
2014-15 Certified Green Offices
University Housing — Gold
Department of Natural Resources and Environmental Sciences — Silver
Office for Mathematics, Science, & Technology Education (MSTE) — Silver
Prof. Ben McCall's Research Group, Department of Chemistry — Gold
Illinois Sustainable Technology Center (ISTC), a division of the Prairie Research Institute — Gold
iSEE — Silver
Department of Chemistry Administrative Office —Silver
IEFX Program, College of Engineering — Gold
Pre-Law Advising Services — Basic Certification
Department of Urban and Regional Planning —
Department of Landscape Architecture —
Inorganic, Materials and Physical Chemistry Office — Bronze
Department of Asian American Studies — Gold
Native American House — Gold
College of Veterinary Medicine's Wildlife Medical Clinic —
Illinois-Indiana Sea Grant — Silver
Electrical and Computer Engineering (ECE) Administrative Suite — Silver
Illini Union's Office of Student Programs and Activities — Bronze
Division of Disability Resources and Educational Services (DRES) — Bronze
Office of Corporate Relations/Office of Public Engagement — Bronze
I-STEM Education Initiative — Gold
LAS Access & Achievement Program — Silver
Facilities & Services, Capital Programs at Urbana — Gold
Facilities & Services, Utilities & Energy Services — Bronze
Campus Recreation — Gold
Office of Technology Management — Bronze
School of Integrative Biology Administration Office —
Smart Energy Design Assistance (SEDAC) —
We encourage the rest of campus to join in the effort as well!