Student Action
We want to engage talented, passionate people to discuss, work together, and help solve challenges in sustainability, energy, and environment on campus. No matter your area of study, you have lots of opportunities to get involved in the campus sustainability sphere.
Illinois Climate Action Plan
Our campus has a moral and ethical responsibility to lead, to set aggressive goals, to work to meet them, and to serve as a model for the community, state, and nation. The Illinois Climate Action Plan is our campus's roadmap to a new, prosperous, and sustainable future for the University. It outlines strategies, initiatives, and targets toward meeting the stated goal of carbon neutrality by 2050.
We need YOU!
To make our campus more sustainable, we will be constantly looking for the support of students to help us with our projects. Currently, iSEE is looking to engage students in:
Illini Lights Out
 An original effort started by the 2015-16 ECBS SWATeam, Illini Lights Out is a program to raise awareness of wasted energy from lights left on in unoccupied spaces campus buildings. Beginning November 2016, brigades of student volunteers are conducting monthly sweeps of buildings surrounding the Main Quad to turn off lights, close windows, and inventory the results.
Monthly Illini Lights Out events are ongoing throughout the semester. Visit iSEE's events tab on Facebook to find the next one!
Illini Lights Out events this academic year have received funding approval by the Student Sustainability Committee (SSC). Contact the team at illinilightsout@illinois.edu with any questions about the program.
SWATeam student positions
Campus Sustainability Interns:
Leave a legacy at Illinois as a student member of one of iSEE's Sustainability Working Advisory Teams (SWATeams). These teams — each consisting of two faculty, two staff, and two students — examine broad themes of campus sustainability within the Illinois Climate Action Plan (iCAP) and recommend concrete steps the campus should take to meet its iCAP targets. The six SWATeams are:
Agriculture, Land Use, Food, & Sequestration
Energy Conservation & Building Standards
Energy Generation, Purchasing, & Distribution
Purchasing, Waste, & Recycling
Transportation
Water & Stormwater
Each year, iSEE seeks students to serve one-year terms on several different SWATeams beginning in the fall semester — though occasionally spots open midyear. Time commitment varies by team and by particular project, but should not exceed two to three hours a week. Passion for sustainability is the No. 1 criterion for candidates; experience in the fields related to a SWATeam topic are a plus.
This is a great opportunity to get experience working on real-world issues of sustainable operations! Contact Ximing Cai, iSEE Associate Director for Campus Sustainability, at campus-sustainability@illinois.edu if you're interested in making Urbana-Champaign the most sustainable campus it can be.
SWATeam Clerks:
iSEE also seeks students to support the Sustainability Working Advisory Teams (SWATeams) with their day-to-day operations each semester.
SWATeam Clerks are responsible for scheduling meetings, preparing minutes, working with iSEE Staff Liaisons to post materials on the iCAP Portal website, assisting with the preparation of reports, performing data analysis or background research as needed, assisting with the preparation of formal recommendations and assisting with the development of scope for proposed sustainability studies.
The Clerk position is ideal for freshmen and sophomores with excellent written and oral communications and a desire to start earning relevant sustainability experience on campus.
Clerks may enroll in the ENVS 491 ("Sustainability Experience") SWA Section to receive one course credit hour. View the class syllabus.
As a student in ENVS 491,interns are expected to spend an average of four hours per week per credit hour on SWATeam-related activities. The interns will meet with SWATeam Chairs at least once per week to review progress and identify activities they can engage in to support the team's work. The Chair will also serve as your course adviser for ENVS 491.
To express interest in this opportunity, please send an email to Ximing Cai, iSEE Associate Director for Campus Sustainability, at campus-sustainability@illinois.edu.
Student Organizations
The University of Illinois at Urbana-Champaign is home to more than 40,000 undergraduate students, many of whom are passionate about sustainability — as demonstrated by the numerous groups whose work revolves around sustaining our planet. Click below to explore the diverse interests of these student groups and learn how you can learn more about sustainability issues, making a difference, and having fun with Illinois sustainability student groups.
20+ Student Organizations -- click here!
Don't see your group on the list? We want to know! Please email us at
sustainability@illinois.edu
 with information about your organization.
Student Sustainability Committee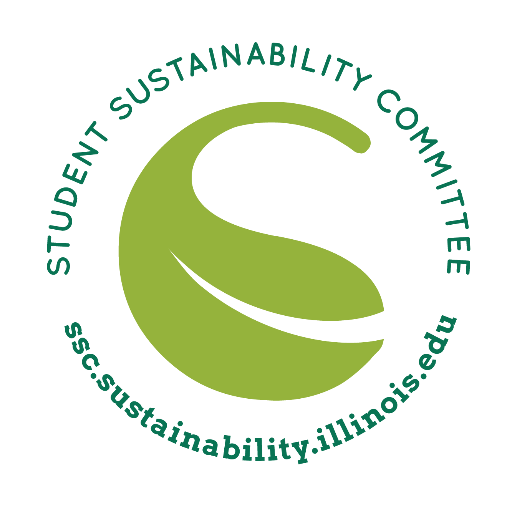 At Illinois, each student pays $14 in sustainability fees each semester, which translates into a pool of more than $1 million per year that is allocated annually to sustainable projects on campus. You could help decide how this money is used next! The fund is administered by the Student Sustainability Committee, 12 students appointed on a yearly basis and advised by faculty and staff members. Students can also be a part of the SSC's working groups that review the projects in depth.
Campus Bike Center
The Campus Bike Center encourages people to ride bicycles, repair the bikes themselves with up-cycled parts, and provide low-cost bicycles to the community — creating an immediate impact by turning waste into emission free transportation. Volunteering at the Center means either getting your hands dirty working on bikes or meeting new people as register workers/greeters or a mix of both.
University of Illinois Office of Volunteer Programs
The Office of Volunteer Programs (OVP) promotes service by encouraging students to donate their time and volunteer for the university and local communities. OVP pairs students with opportunities where they gain invaluable experience through public engagement.
Sustainable Student Farm
The Sustainable Student Farm is a production farm that supplies our residence halls with locally grown, low-input sustainable food and provides practical, hands on experience in small-scale sustainable agriculture. Volunteers are needed throughout the year as they are involved in all aspects of production cycles, including: seed-starting, transplanting, cultivation, high tunnel work, and harvesting.
Dump & Run Sale
Volunteer with the community's largest waste-diversion event of the year! Each year, more than six semi-trailers worth of furniture, clothing, and home goods are collected from Illinois students and Chambana residents and sold at the sale to support the programs of the University YMCA. Why not share our surplus, rather than trash it?